*Hanger from AE.1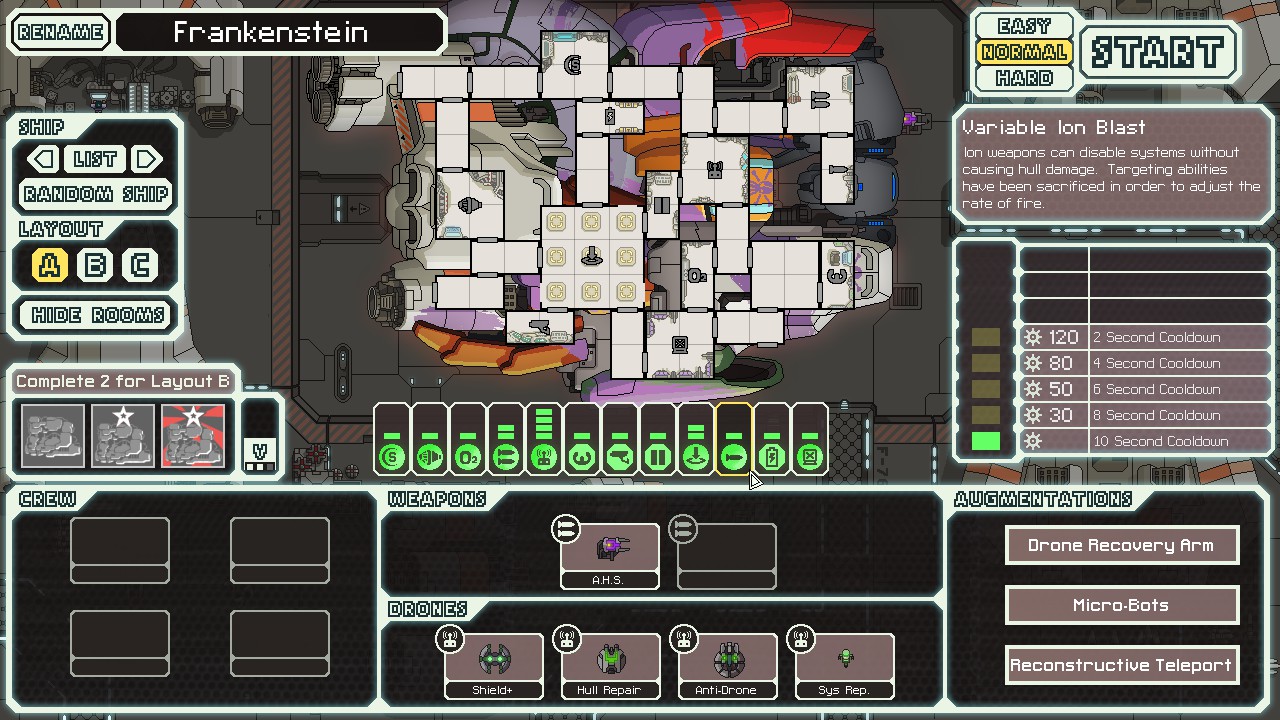 Install with
Slipstream Mod Manager
Requires the
Universal Starting Beacon
MediaFire Download Link
AE.1.3 - Replaces all Engi ships -
Hull Image
This ship has no damaging weapons other than the Engi that inhabit it. They bring with them a powerful hacking tool and an experimental Ion Blast.
AE.1.3 brings a type B and C which do start with a damaging weapon.
*Due to FTL patch 1.03.3, the teleporter does not perform as intended; crew limit is four. Therefore, the
shieldless version
of this ship will not be made.
*Artillery text not updated for FTL 1.6.x, but should still be playable.
Code: Select all
Initial release of 0.7:
-Link removed

Changelog for 1.0:
-Fixed artillery tooltip when hover on UI
-Append choice to DISTRESS_SATELLITE_DEFENSE event rather than replace event
-Include SMM metadata.xml
-Altered cooldown of A.H.S. from 16s to 20s; this thing is OP, especially since you get two of them
-Moved weapon mounts a few pixels closer to the ship
-Animated the Variable Ion Blast :D

Update for AE.1:
-Updated for AE compatibility
-Decreased weapon slots to 2, increased drone slots to 4
-A.H.S. is now purple instead of blue; cooldown set to 19s; you only start with one now
-New set of starting drones
-Starts with all systems that the ship can have; sorry about the loss of customization
-No more medbay; heal through teleportation
-(Jan. 9, 2015) Silent update for misc.xml.rawappend

Update for AE.1.3:
-Type B for 3 weapon slots and 3 drone slots
-Type C for 4 weapon slots and 2 drone slots
-An extra airlock
-New store events to allow more systems, but requires Engi sacrifice
Story:
Victor, an Engi leader at a ship graveyard, decided to have a ship built out of the various, broken ships that cluttered the area. The Engi started by installing a teleporter system inside a hull piece. They attached a drone system and sensors, then added an AI program. The ship now had the power to build itself, under supervision from the Engi, by teleporting the ship parts that it needed from the surrounding scrapyard.
During construction, rebel data was intercepted while scanning the airwaves. Included in the data was blueprints to an experimental flagship that the rebels were using to take over the galaxy. Victor wanted to include some of this stuff in his new ship, mainly the super-shield system and the power generator for it, but they couldn't build or replicate any of it from the junk in this scrapyard. They needed to ally with the Federation in order to have any chance of stealing the rebel technology from that flagship.
Gameplay:
You need Slipstream Mod Manager and the Universal Starting Beacon (loaded sometime before this mod) in order to get your Engi crew.
This is the first flight for the ship. As such, the engines haven't been configured for optimum efficiency. They start at level 1.
The rebels are coming, but the "normal" shield system hasn't been configured yet for the awkward hull. They start at level 1, meaning you have no shield bars.
Blah, blah, blah... figure it out for yourself.

I really have no idea how to properly balance this ship.
As of AE, a cap on systems was implemented. This ship cannot accomplish what I had envisioned, so now it no longer has a medbay because of that.

I wanted to have all systems but cloak, but AE prevents you from buying them. Starting with all the stuff that this ship has may be unbalanced, but I don't care. It's my gift to the player for taking away their medbay.
AE.1.3 now allows for more systems, including cloak which I previously said I didn't want it to have. The ship still starts with all the stuff from the previous version, so you are still starting with a lot.
Gibs don't match the actual hull; their mostly vanilla gibs rather than edited for the Engi additions/alterations. Due to my lack of art skill, I won't be doing anymore work on the graphics.
A future update for this ship is kicking around in my brain, but I might not make it. It would replace the starting tips, as advised by my AE.1.3 tester, and it would add a new option to an Engi event.
Videos:
ZippyDragon
(Mod Overview of vAE.1)
L O U I E
(With CE and without the USB, so he had no crew. It's a short run.)

Credits:
Whoever wants to claim them
Superluminal
Slipstream
FTL
That one guy
- Yeah, that testing back in Sept. was for this ship, before I had the ability to mod myself
Other people
Biohazard063 for AE.1.3 testing