*Old hanger image. You should have a Lanius who is replaced by 7 Zoltans when you start the run.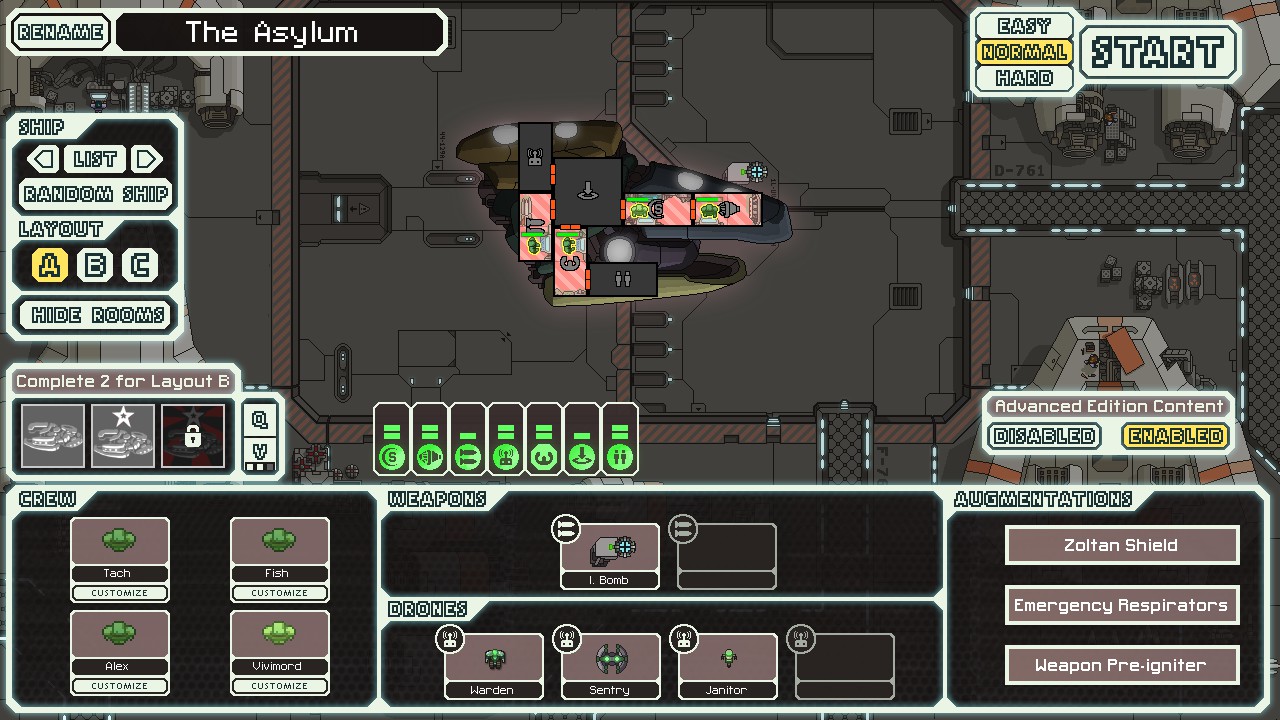 Install with
Slipstream Mod Manager
MediaFire Download Link
AE.1.2 - Replaces Zoltan-A
Code: Select all
Initial Release of AE.1:
-Tick, tick, tick...

Update for AE.1.1:
-Appended choice to slug event to prevent total shutdown of Clone Bay

Update for AE.1.2:
-Fixed floor image that plagued some users
-Altered start so crew won't die in the hanger; you now start with 7 Zoltans
-Modified Clone Bay for level 4 capabilities
-Broke hacking systems
It is finally here! A dedicated Zoltan suicide bomber. It is so dedicated that it left out so many systems. This ship cannot support any additional systems. If your clone bay isn't running, then you may be losing, unless you converted yourself into a Lanius ship.
Features custom Anti-Personnel Drone and Shield Overcharger drones that use one power, plus a repair drone that uses no power.
Mod Compatibility:
-All additional systems have their prices set to 999 scrap. Clone Bay and Hacking have had additional alterations. Don't play other ships with this installed.
-Something about the start of game event and start of civilian sector event. If Asylum is loaded last, I doubt there would be any issues. There aren't really any non-ship mods that mess with that sector_data stuff, aside from the Universal Starting Beacon, which this should be compatible with.
Pre-AE.1.2 - Known Issues:
-The game will crash in the hanger if you are customizing crew when it dies. It is alright to rename them if you don't use the customize button, but it may be best to start the game first, then rename your crew if you choose to. If your crew die in the hanger, they will start to clone when you begin the game.
Videos:
Preview by Biohazard063, pre-AE.1.2
Credits:
FTL, Slipstream, Notepad, PSP7
Tweevle for the Type-B Zoltan Fighter