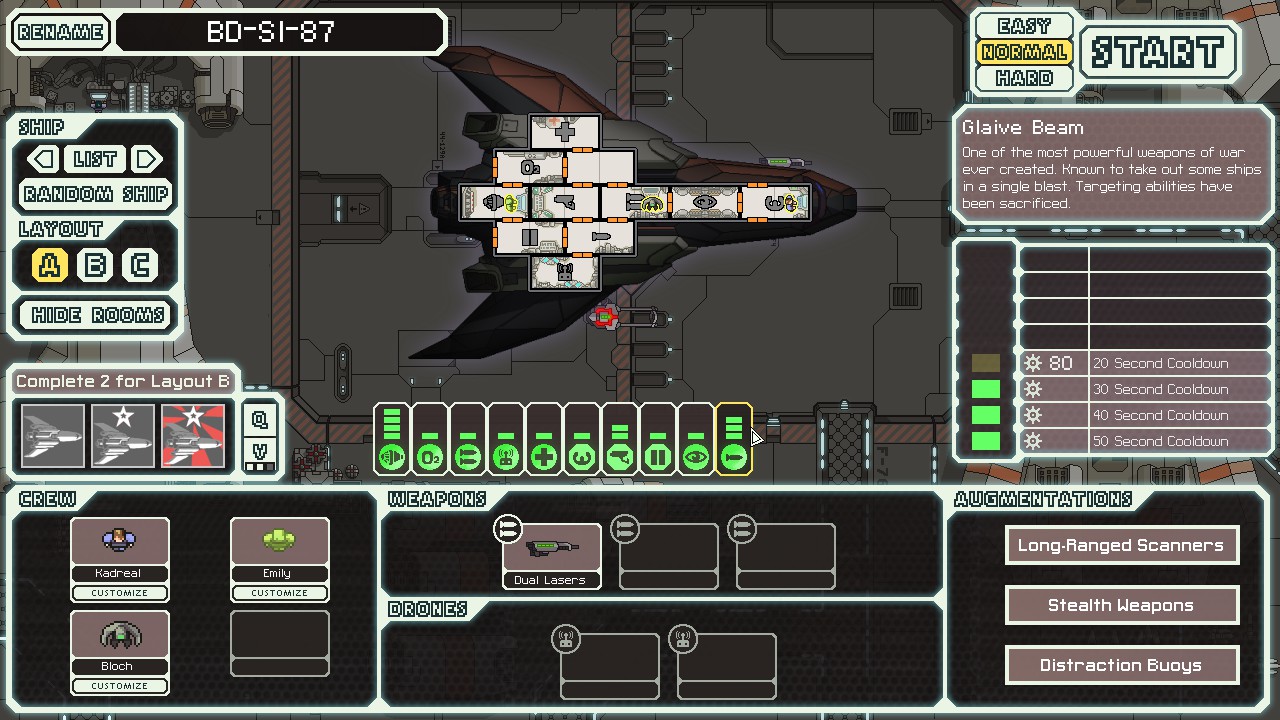 Install with
Slipstream Mod Manager
MediaFire Download Link
AE.1.1 - Replaces Stealth-A
Code: Select all
Initial release of 1.0:
-Stealth Interceptor ready to fly under the radar

Update for AE.1:
-Updated for AE compatibility
-Added starting drone system; this allows the teleporter, hacking system, and mind control to share the same room without fear of overlapping, since you only have one system slot left
-Still no shields, and you can't have a backup battery either
-Minor buff to the artillery Glaive Beam

Update for AE.1.1:
-Shields are now possible, due to necessity for the Zoltan Shield and Shield Overcharger drone
No one knows what BD stands for. Some think
Badly Designed
, others think
Barely Detectable
, but most agree that SI is for
Stealth Interceptor
. The #87 is a mystery, as the size of the ship is actually 82% of the normal Stealth Cruisers. Some fool fused a Glaive Beam onto the wing so that it can't be removed without causing massive damage to the ship. While they did make the power input variable, allowing for a slower charge from less power, they forgot to include controls for targeting. There is no way to stop the weapon from discharging when it is ready.
As of AE.1.1, this ship can now get shields, but it costs 450 scrap to buy. It comes with full system power, meaning you actually save 5 scrap.

This .ftl file removes the backup battery from shops so you don't waste money trying to buy something you can't use. It also tries to remove the shield system from shops, but that no longer works, so it is also expensive.
Credits: (Copy & Paste from my Hulk topic)
Slipstream is good for giving credits to.
I'd also like to credit Notepad and my image editing program, Jasc Paint Shop Pro 7.
Of course, FTL gets credit for the resources it provides.