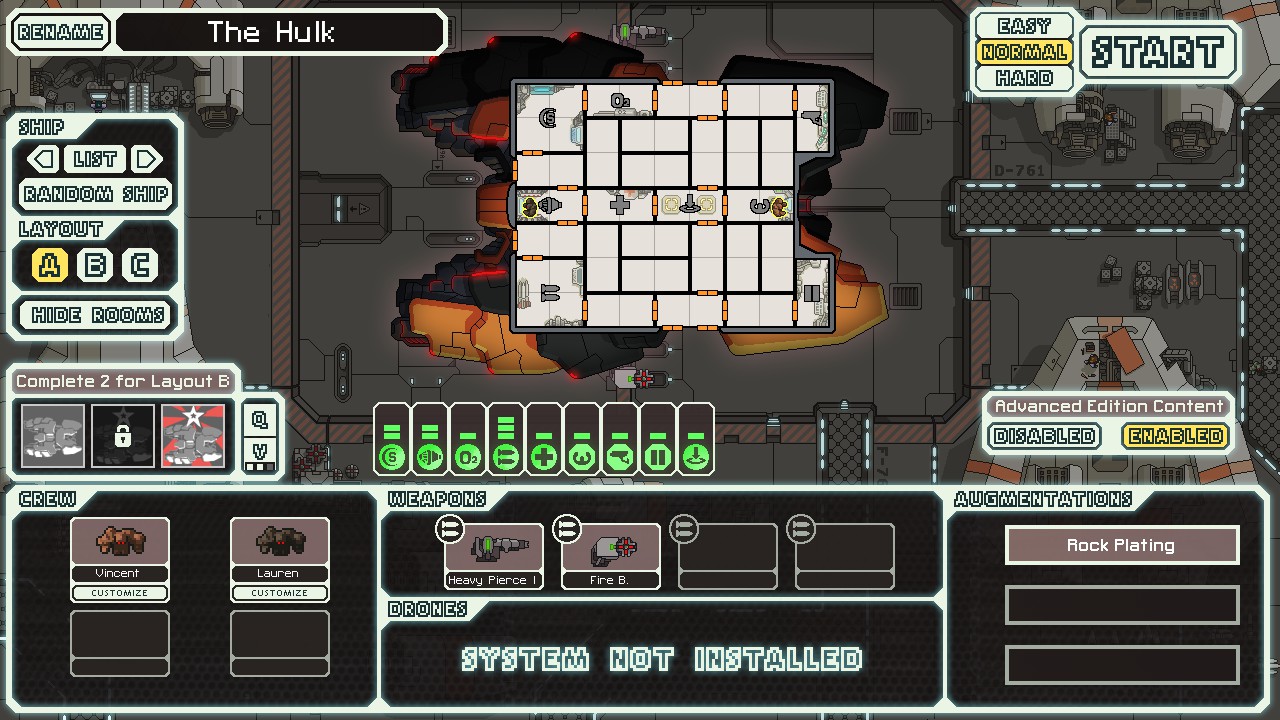 Install with
Slipstream Mod Manager
MediaFire Download Link
AE.1 - Replaces Rock-A
Code: Select all
Initial release of 1.0:
-Nothing worthy of note

Update for AE.1:
-Updated for AE compatibility

This is a Rock prison ship, slightly inspired by the doorless rooms from The Derelict by Lemmonade. It may be seen as a modified Shivan, except you have two less starting crew, lower oxygen system, airlocks, and two extra starting systems in doors and the teleporter. There isn't really anything else special about this ship.
I mixed the gibs from the two Rock cruisers and tried my best to add the lights from the Shivan onto the Bulwark parts. I really hate glowing lights that mix into the image; makes it harder to mess with colors.
This is a challenge ship. What is the challenge? See how many prisoners you can trap in your cells. The challenge of this? You can't upgrade your ship because the game will consider those prisoners as hostile boarders. I wonder if anybody could be lucky enough to get all 20 tiles filled...

Credits:
(Credit information not updated for AE, because I know how to do room layouts now.)
Not Superluminal this time. I modified the floor and rooms from the Shivan using Notepad. If I had access to Superluminal at the time I started planning this ship, I would have had more rooms in the back of the ship. The rooms aren't there now because it would've messed with offsets or some other thing if I tried to do that blindly. Then I really would've needed Superluminal to fix the position of things for me. I haven't figured that stuff out yet.
Slipstream is good for giving credits to.
I'd also like to credit Notepad and my image editing program, Jasc Paint Shop Pro 7.
Of course, FTL gets credit for the resources it provides.