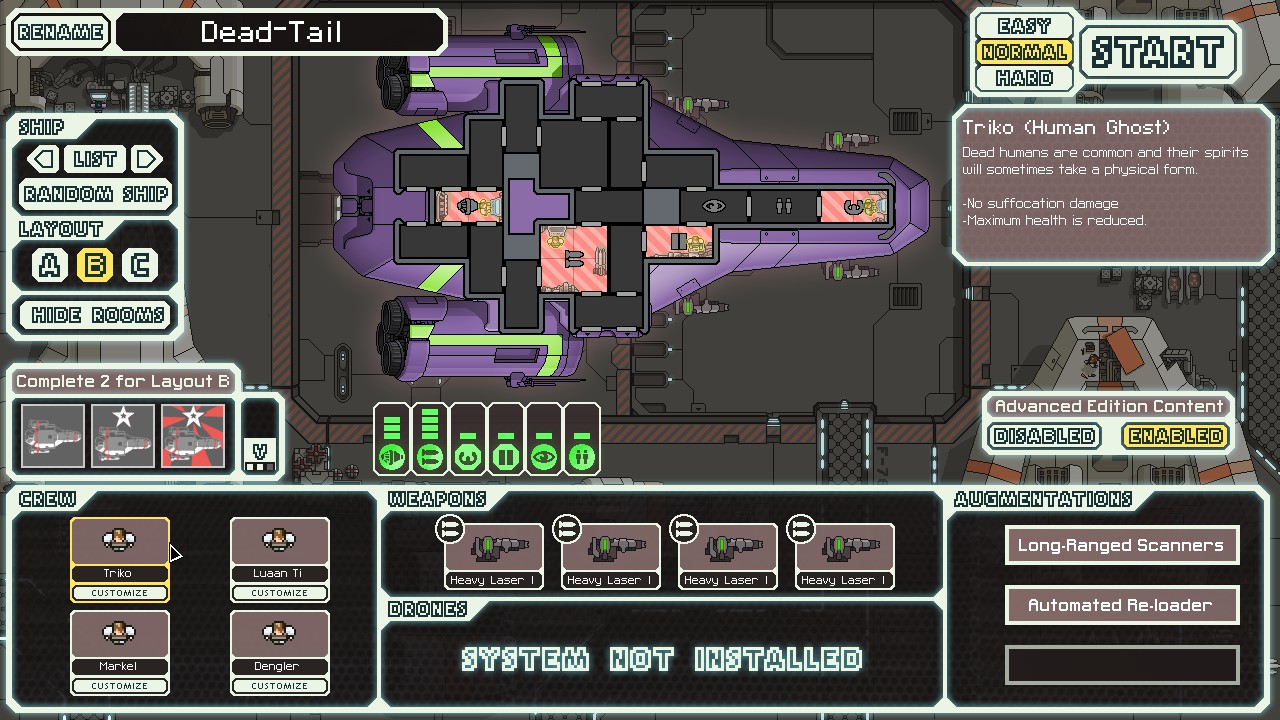 Install with
Slipstream Mod Manager
MediaFire Download Link
AE.1 - Replaces Kestral-B -
Hull Image
Code: Select all
Initial Release:
-No version number

Update for AE.1:
-Updated for AE compatibility
-Replaced Zoltan with another ghost
-Scrap cost for ghosts increased from 3 to 10
-Replaced Medbay with Clonebay; decreased starting system power by 1
-Removed Engi Med-bot Dispersal
-Decreased starting door level; you have an extra ghost to man it now
-Buying shields starts at 2 system power instead of 3
-Decreased starting reactor power by 1

Want to fail?
(No, you don't!)
Then fly the Dead-Tail. A flying coffin that is a Red-Tail/Stealth Cruiser/Ghost ship.
Maybe mixing the problems of the Red-Tail and Stealth Cruiser with a coffin wasn't the best thing to do, but I give it to you anyways. This ship has no story. It's just a ship I made to get familiar with Superluminal and modding.
Videos:
BrenTenkage
(vAE.1)
Biohazard063 -
Sensory Deprivation
-
Part 1
-
Part 2
-
Part 3
BrenTenkage -
Second half of an Arsenal+ Halloween stream
BrenTenkage -
Spaceballs?
- Arsenal+
Rand118 -
Sept. 14, 2020
Credits:
FTL Ship Editor: Superluminal - version 13-11-12 for editing the room layout and generating files
Slipstream Mod Manager v1.4 for patching the game
Jasc Paint Shop Pro 7 for image manipulation
Notepad for text file alterations