ATTENTION ALL BRONIES AND PEGASISTERS
This is a topic where I will post updates for an upcoming mod I'm working on that is based on the My Little Pony TV show. I hope to include new classes, ships, weapons, events and graphics. It may take a while before release, but check out my progress below!
Update [20/3/13]
So there's good news and bad news.
The bad news is that I tested out what I had so far, and it turns out that the crew graphics are much smaller than I once thought, to a point where the ones I've created are unusable. This means I have to start from scratch and lose all of my progress involving the Earth Pony and Unicorn sprites. Fortunately though this means I can use much better looking graphics that you can actually tell are ponies!
The good news is that the mod is coming up to a playable state.
It's far from finished, but so far I have completed work of the Kestral graphics, layout, description and crew (with weapons and stats at the top of my to-do list). I have also redone every single bit of GUI in the game from the main menu to the options.
http://i1310.photobucket.com/albums/s643/Cerulean_Spark/main_base2_zpsa57a0766.png
Finally, I've started work on some basic events. Nothing too game-changing though, since I still need to finish crew and weapons to really be able to work on the events.
The last piece of news is that I have a new laptop, so hopefully I'll be able to work on this much faster than before, and with the next season almost a year away I have a fair amount of extra time. No more 2 month gaps between updates is the plan!
Until next time, thanks for the feedback!
And no, I will not remove this page from the forum because some people don't like bronies. Stop cluttering up my development page.
Update [20/1/13]
After having next to no time to work on the mod over Christmas, I'm back with another update!
The biggest changes I have implemented are the textures and layout of the ships, including minor changes to the paint jobs and changes to the default starting weapons, to better represent the crews. While some of the new images are minor changes to the colours, some are total re-imaginings of them, most notably the Stealth Cruiser which I plan to be used by the Changeling Army. I will include a picture once the finishing touches are done.
I have also completed the sprites for the Earth Pony crew and am beginning on the unicorns. Unfortunately I can only choose 1 unicorn to represent the species, and the unicorn I have chosen is Rarity (sorry Twi fans). Again, if anyone knows how I can include several choices for crew members, I'd appreciate that you stand up.
Finally, I have started work on new weapons. Nothing in the files yet, just some ideas I'm throwing about.
Thanks to BrenTenkage for his/her weapon suggestion, Love and Tolerance, which are 2 weapons I hope to implement.
Sorry for the delay, and thanks for putting up with my slow speed.

[19/11/12]
I wasn't planning a monthly update, but the dates just happened to line up!
Anyway, here's what I have accomplished in the last month:
I have completed a reskin of all the asteroid (both projectiles and backgrounds) to make then look more similar to rocks depicted on the show. I also reskinned all of the ingame GUI that I plan on changing, the most notable part being the notifications.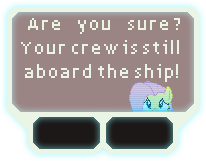 Throughout the game you will be guided by a computerized Fluttershy! She doesn't really do much, but she'll be there in every event, as well as the options menus.
As far as code is concerned, I have begun re-writing the name list to include ponified names to match the new crew, but the big stuff won't come for a while. As I said, this won't be released anytime soon, but stay tuned for the next update!
[19/10/12]

Default Class: Earth Ponies
The obvious replacement for humans is the classic wingless ponies. The 2 options to choose from will be Pinkie Pie and Time Turner (aka Doctor Whooves), but I will include more if anyone figures out how to add extra skin options *wink wink*
Pinkie:

Weapon of choice: Party Cannon
Time Turner:
Weapon of choice: Open for suggestion
Planned races:
-Unicorns
-Pegasi
-The Apple Family
-Changelings
-"Cloud Dwellers"
-"The Celestial Order"
Any ideas or suggestions? Post them below! This won't be coming out any time soon, but I'll be sure to update every now and then.
Brohoof /)