Had this in the back of my head for a while now, so I threw together some rough sprite concepts.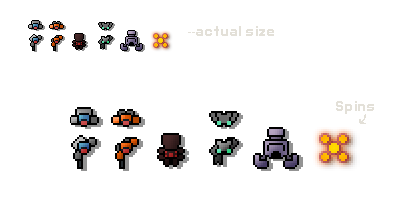 I figure a true top-down view is different enough from ftl's bird's eye view, but still fits the gameplay and means less work is needed.
The Mineral creature needs some heavy work (I kinda wanna make them into tardigrades), I want to try giving the cyborgs serpant bodies, and the orbs on the Energy creature will probably be made smaller, but I'm happy with the humans and spider's shape (the colours will be messed with and could even be customisable)
As for controlling crew, especially with combat and races involved, I like the idea of adding a little bit of depth into combat.
I feel like there could be a bit of a twin-stick shooter vibe - aim using the mouse, left click to interact, cntrl for a special ability. If you're near an enemy you can press shift to enter attack mode, where left click does a melee attack and right click a ranged attack.
(Edit: I also like the idea of different races having different trade systems - for example spiders probably don't care much for currency - so I threw some suggestions in)
So, left to right:
Humans
Humans may be unremarkable, but are resourceful and able to adapt to most situations.
Speed: Standard
Health: Standard
Oxygen: Standard
Space Movement: Jetpack (momentum is sustained, but slows over time)
Combat: Melee (standard) Plasma Rifle (Ranged, strong)
Special: Concussion Grenade (targeted AOE, stuns and knocks back enemy crew, slow recharge)
Bonus: Incentives (if low on funds, gain currency slowly over time)
Trade: Set Standard Currency (SC) prices plus 10% tax
Ships: Efficient, boxy, flatpack spaceships, often symmetrical hulls but with asymmetrical rooms. Smaller ships may be more aerodynamic.
Vikahns
A nomad tribe who have separated themselves from and no longer identify with human society- making contact only to trade or pillage.
Speed: Standard
Health: Standard
Oxygen: Low
Space Movement: Spacediver (faster jetpack, reduces oxygen loss, can tether multiple resources)
Combat: Melee (standard) Plasma MG (Medium range/damage, fast)
Special: Fire Grenade (slow recharge)
Bonus: Plunder (gain more resources than normal)
Trade: A mix of SC and resources based on current supplies and value of item.
Ships: Think 'Mad Max in space', chaotic but intimidating, heavy fire power but lacking in defense. Often have incredible storage and even the battleships have trade systems.
Swarm
Although unable to build their own, these cunning predators often learn to operate the technologies of the colonies they infest.
Speed: Fast
Health: Standard
Oxygen: Low
Space Movement: Bubble (floats in a thin cocoon; momentum is constant - never slows - but can be redirected with movement keys)
Combat: Fangs (Strong melee) Pounce (stuns target on impact, recharges by moving)
Special: Camouflage (temporary invisibility, appears as a faint outline if moving)
Bonus: Eggsacks (set any location as a secondary respawn point - eggsacks may be destroyed)
Trade: A randomly chosen item or amount of resources, possibly your ship or HP.
Ships: Small, stolen ships ala FTL pirates, but with Alien Hive rather than purple warpaint. A few may be unrecognizable ships from races we're not even aware of. The ships have a huge range of potential systems, but are often less upgraded than their non-infested counterparts, and may attempt to ram your ship as a means of boarding.
Horzan
Half organic, half nanobot, it's unclear if the studious Horzan are the remnants of a lost civilization, or mongrel assortment of stolen minds
Speed: Normal
Health: Low
Oxygen: Standard
Space Movement: Flight Mode (exactly like walking)
Combat: Fists (weak) EMP Gun (ranged, weaker to crew but strong against systems and Astralls)
Special: Interface (hack/charge the current room and its doors depending on affiliation)
Bonus: Nanobots (Improved repair speed and passive aoe healing)
Trade: Set SC prices, no markup.
Ships: Sleek and futuristic, like star trek meets slugs, with powerful engines and cloaking. Rooms are efficient, symmetrical, and highly interconnected.
Tadrigok
Towering mineral beasts that seem born to live in the harsh conditions of space, the Tadrigok are calm and intelligent, yet defensive and fiercely unforgiving
Speed: Slow
Health: High
Oxygen: High
Space Movement: Magnetism (can walk around the ship's hull, using Kick launches you away, if in space will slowly fall towards nearest hull)
Combat: Kick (knockback, low damage) Beam (sustained damage, slow recharge, pulls crew/resources to user, or user to ship hulls)
Special: Breach (Breaches current room, can be used on external walls to create Golem-only airlocks, standard recharge)
Bonus: Sturdy (immune to knockback, has double inventory space)
Trade: Half SC price with allies, Double SC price with enemies
Ships: Carved out asteroid bases, aztec like structures, engines made of stone and glowing crystals. Lots of gaps and hull-tunnels between rooms, may even have defenses on orbiting rocks. Slow, practically stations, but strong, well defended and highly impregnable to other races.
Astralls
Formed from cells of plazma, Astralls are erratic both in structure and temperament, and rarely exist peacefully alongside other species.
Speed: Equal to the oxygen around them
Health: Standard
Oxygen: Low
Space Movement: Can't move in a vacuum, but special charges faster when in space.
Combat: Burn (passive melee-range area damage) Energy Burst (cone attack, medium-low damage)
Special: Relocate (turn ethereal, teleport to any valid area in a large range, standard recharge)
Bonus: Energy Consumption (absorbs nearby fires and stun damage as health)
Trade: Between 0.5 and 1.5x cost's worth of Fuel
Ships: Simple and compact, with minimal airlocks- rooms usually create a single winding path from one end to the other like intestines. Uniquely powerful oxygen supplies lead to highly combustible rooms and faster crew.
Thoughts?
(Edited some names and stuff)