I'm delighted to announce the 0.5 beta release of the
FTL Starcraft Conversion
!
The primary feature of this mod is: 18 new ships to play! All your favourite air units from Starcraft 1 and 2, ported into FTL!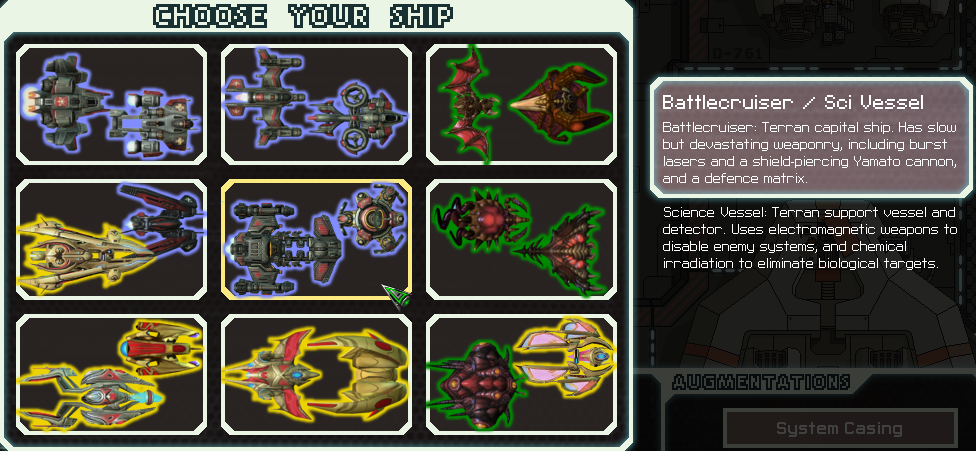 These ships are mostly
a bit harder
than the ships in the vanilla game. This is mainly because the Terran and Zerg ships don't have any shields!
Terran ships all have no shields, but they have SCVs (Engi), System Casing, and 10 MULEs (the Hull Repair Drone), so they can shrug off most damage inflicted in combat. Most of them have Marines (Human) and/or Marauders (Rock) on board too.
Zerg ships have no shields, but they do have Parasitic Healing (the Hull Repair Arm), they all have at least one Zergling (Mantis) and at least one Infestor (Slug), most of them have Regenerative Carapace (Slug Gel), and they all have some powerful attacks or capabilities.
Protoss ships have shields, but have an unusual assortment of attacks. They're crewed entirely by High Templar (Zoltan) and Sentries (Crystal).
But despite being a bit trickier, each ship is playable and usable; I've beaten the game with several of them in just a few playtests. The full list of ships follows!
Viking: Terran fighter with anti-capital missiles but no defence except its speed. All missiles all the time!
Medivac: Terran troop transporter. No weapons except Healing Burst, but 6 crew (2 Marauders 3 Marines 1 SCV) and a 4-space teleporter.
Wraith: Terran stealth fighter. Gemini Missile, 25mm Burst Lasers, and cloaking field.
Banshee: Terran stealth bomber! Bombs, missiles, and cloaking.
Mutalisk: Zerg attack fighter. Comes with a Weapon Pre-Igniter!
Queen: Zerg infiltrator. Ensnares systems and launches Broodlings.
Carrier: Protoss capital ship. 4 Interceptors attack the enemy ship!
Raven: Terran support ship with auto-turrets for offense, a point defense drone, and the powerful Seeker Missile.
Battlecruiser: Terran capital ship. Has slow but devastating weaponry, including burst lasers and a shield-piercing Yamato cannon, and a defence matrix.
Science Vessel: Terran support vessel and detector with a defence matrix. Uses electromagnetic weapons to disable enemy systems, and chemical irradiation to eliminate biological targets.
Corruptor: Zerg air-control unit. Neutralises enemy systems then spits deadly spores.
Brood Lord: Zerg heavy assault bomber. Launches bombs and broodlings.
Void Ray: Protoss beam ship. Its prismatic beam can decimate ships in seconds.
Corsair: Protoss air support ship. Uses Disruption Web to shut down enemy systems.
Arbiter: Protoss judiciary craft. Uses cloaking and can send enemy systems into stasis. Can use Recall to navigate to any visited beacon.
Phoenix: Fast Protoss strike craft. Unleashes a burst of laser fire and dodges the return volley. Can neutralise systems with a graviton stream.
Overlord: Zerg scout and troop transporter. Changelings infiltrate the enemy and do a little damage, but it's the zerglings you're carrying that are the real threat.
Warp Prism: Protoss troop transporter with significant shielding and minimal weaponry.
More screenshots:
Medivac in the hangar
Phoenix in flight
Wraith in an asteroid field
Brood Lord in combat
What's included: * 18 SC2 ships with graphics * SC names for almost all weapons, drones, augments and crew * SC2 icons for systems & subsystems
What's not included in this version, but possible for later releases: * New weapon graphics * Changed event text * Start-of-game option to unlock ships * New events * New sprites for crew * SC2-style interface for the rest of the UI * More than one gib per ship
What's not in this version, and not planned: * Any custom weapons apart from the Arbiter's Stasis bomb - I'd rather keep the balance of the weapons as we know it in FTL
Download
Download the SHIP mod here:
http://www.toothycat.net/~hologram/FTL/SC2Ships.ftl
and the UI (icons) mod here:
http://www.toothycat.net/~hologram/FTL/SC2UI.ftl
They're designed to be used together, but if you find the Starcrafty icons confusing you could just use the SC2Ships with the default icons.
Alternatively, you can download an archive of both files from ModDB:
http://www.moddb.com/mods/ftl-starcraft-conversion
Both parts of the mod require
Grognak's Mod Manager
to work.
You may like to use ComaToes's
Profile Editor
to unlock any ships you've not got so far so that you can try out all the Starcraft ships

Please playtest and give me any feedback. I am planning to continue working on this, most especially to address any balance concerns that come up, but also to further Starcraft-ify the graphics.