Presenting my first ship:
The Long March
.
Max 3 weapons, max 2 drones. Starts with 2x burst laser 1 and a preigniter. No shields (ever).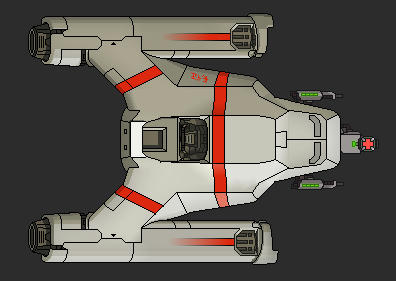 Download link:
http://www.mediafire.com/file/ccnrea839uj8zq6/The_Long_March.ftl
'
Reccomended:
Kierany9's 15hp hull strength HUD -
viewtopic.php?f=11&t=21578
A knowledge of the weapon preigniter trick -
https://www.youtube.com/watch?v=cMVlkQhF3Kw
This modified Federation Scout was designed to smash through beacon blockades using its preigniter, then escape quickly with its Adv. FTL Recharger. Unfortunately, the modifications needed to include these augments weakened hull strength (max 15) and warped shield matrix geometry enough that the ship can never install shields. Also, since The Long March is so small, there simply isn't room for most auxiliary systems. No mind control, no hacking, not even a medbay! Use your healing bomb carefully. The teleporter was included to quickly load and unload sensitive cargo, but should also be helpful in boarding critical targets.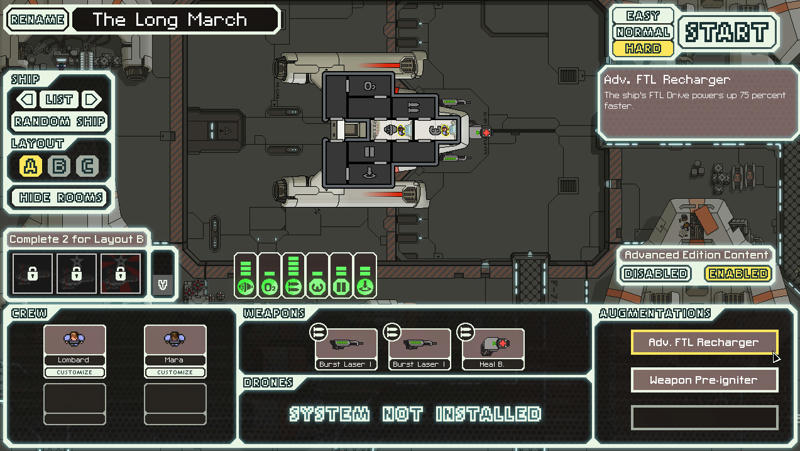 Can install cloaking and drone control only. This is a challenge ship! Know which fights to take, and which fights to run from. I have beaten the flagship with this on hard difficulty - and it only took me 16 tries.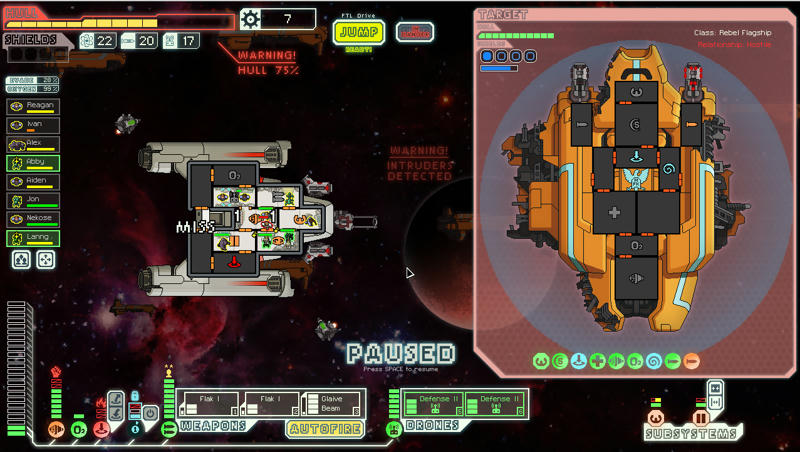 (Ok, I realize I used flagship randomizer. Still, the difficulty was at least as high as the regular flagship, since it still had its regular beam laser. And those flak guns are SCARY when all your rooms are bunched up.)
Edit: No idea why images won't show up... I've added links to some. I'm actually very proud of the hull design!
Edit #2: Yes, zoltan shields do not work at all. No idea how you could get a zoltan shield augment though... I've heard the zoltan cruiser unlock quest can give it, but I only ever get the envoy. The shield graphic is defined, so defense drones work just fine.
Edit #3: Got images working! Hurrah!
Edit #4: Uploaded a new version of the mod, zoltan shields/overcharger drones will now work.