Before the rebellion, the Federation found plans for a massive space station floating amidst the debris of some battleground. Their scientists determined that the blueprints came from a long time ago, in a galaxy far, far away. When war broke out, it was rushed to completion with a non-existent shield and a hastily slapped together engine mod to allow movement. Relying on its super shield and superior arsenal, the death star is a force to be reckoned with. But can it defeat the rebels' own pride and joy?
I have noticed a distinct lack of Death Stars on this here forum, so I decided to make one.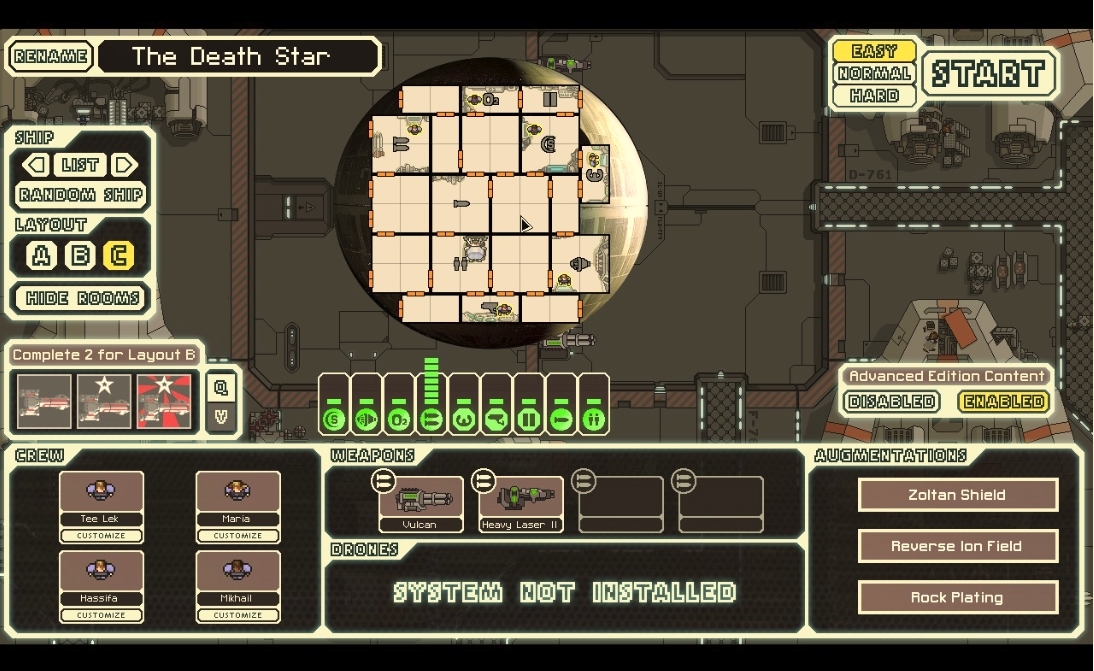 To recreate the Death Star feel, I have made the ship fully staffed, but by humans, as well as given them a clone bay. You know, so it's all staffed by clones. The zoltan shield and rock plating give it the impenetrable feel that it always has, and the reverse ion field because... well, to be honest, I like it.
Not only that, but its arsenal of the chain vulcan and heavy laser II means it can absolutely wreck shop. It also supports any system, so go nuts. There's also the artillery beam, just so you can annihilate ships like they were Alderaan. You BASTARD.
Of course, that doesn't mean the ship is OP. If you read the lore, you'd notice the bit about shields. If you want to have anything more than the zoltan bit, you need 100 scrap. The power is already allocated though, I don't hate you too much

The engines are also severely under powered, and later sectors can get tougher if you don't replace your starting weapons with something more well rounded (I'm looking at you, defense drone II). The massive amounts of power needed for weapons can draw away from other systems, and the large amount of power you have at the start makes reactor upgrades more expensive right off the bat as well.
It takes up the place of the Federation Cruiser Type C, so you have to work for it. Just so you can't try and blitz with this bad boy as soon as you start. Don't want to make your game to easy for you, now do I?

Also, the guy who's suposed to be on doors starts off in O2,
the prick
. So you have to send him there yourself, as I am not the best at modding yet

. If I fix it I'll upload the new version, and if anyone has tips on how to do it let me know!
Made in Superluminal:
viewtopic.php?f=12&t=24901
Download link:
https://www.mediafire.com/?b0fne8u4bu151gs