There's not much to be said here. A bunch of combat drones and a Shield Drone and a Repair Drone got together and said "Let's form a fleet!"
They altered their parts so they could each supplement each other in a loose formation and they communicated via quantum entanglement.
Their goal? To go help the Federation as the Rebellion doesn't have any interest in a swarm of Combat Drones forming their own AI.
Their name? Well, of course it had to be LEGION.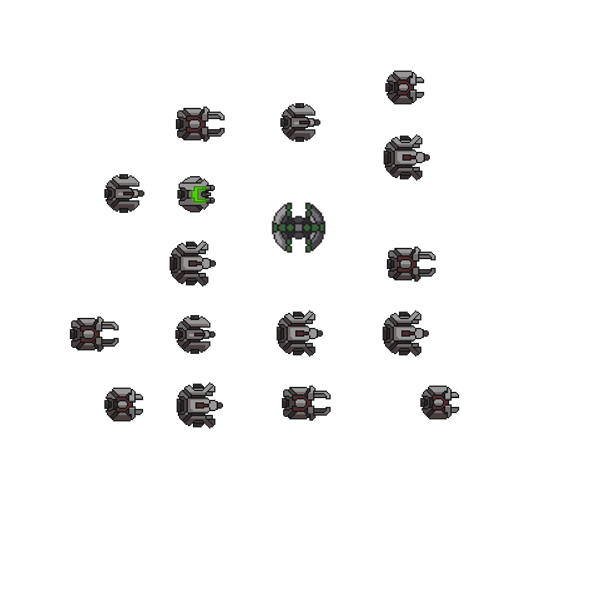 http://www.mediafire.com/download/mk17t ... arm_V2.ftl
(Replaces Engi A)
The gimmick is that each drone is a separate room, so it means boarding operations will be scattered and it also means repairs are more difficult. I used the Repair Bomb from my earlier work, the
Lanius Trail
which does damage to enemy crew and repairs 2 points of system damage.
The ship also starts with only 2 Drone parts and a Drone Recovery Arm so initial deployment of drones is limited. But it comes with a Mini Beam for offense and an Ion Drone for shield removal. A Defense Drone deals with missile strikes that might set something on fire and cause hull breaches.
Lastly, there's an Artillery available but only in Captain's Edition or other mods that enable artillery. It's a Glaive Beam but it can only go through one layer of shield and it's slightly shorter.
P.S
If the game crashes from crew events and you lack crew, there is a solution here by meklozz,
Player AI ships crew loss crash fix
Special Thanks:
Sleeper Service for the Ion Drone image from Captain's Edition
Rjcobourn for inspiring the idea with his upcoming ship mod
Gencool for the Slug Gel Event Remover so you don't get to break truces in Captain's Edition.
Everyone else for seeing this and downloading and trying it out.
Video Runs:
Biohazard063 (Version 1):
https://www.youtube.com/watch?v=hmT7y6tTepA
Me (Version 2):
https://youtu.be/oxEXViavC3Y
Older Versions:
http://www.mediafire.com/download/93540 ... _Swarm.ftl