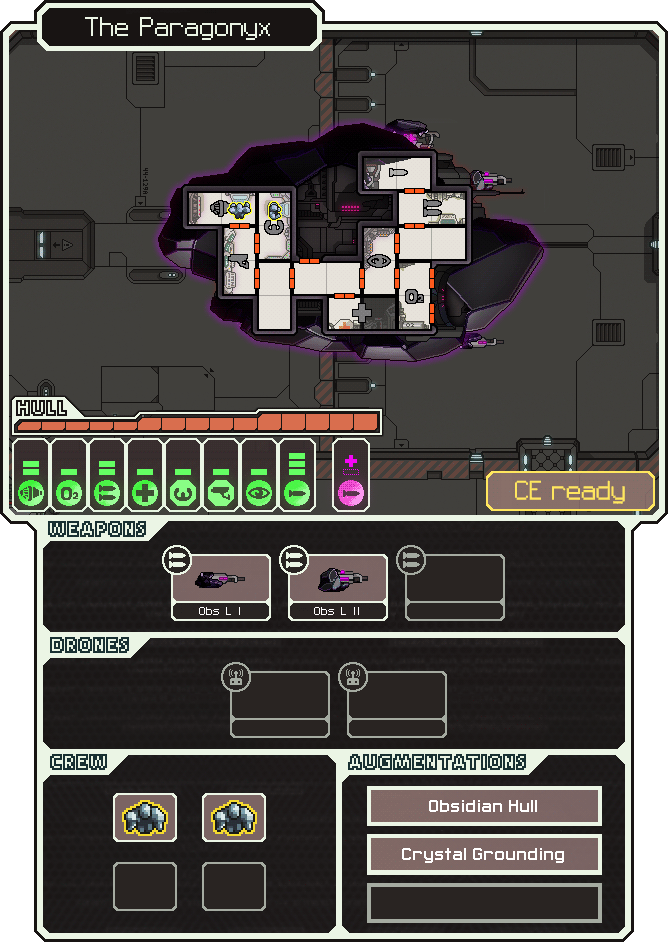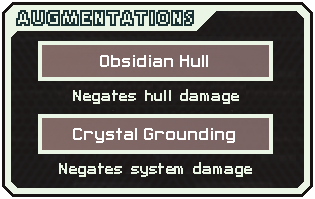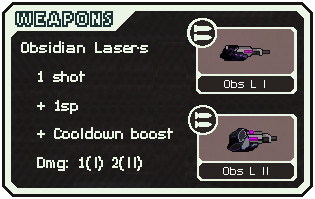 --Current version: v003.2--

The Paragonyx is an Obsidian Bomber class ship.
The ship's characteristic, rare crystals not only power its unique weaponry, but provide complete protection from standard combat damage.
However, the crystals also prevent shields from being generated around the hull.
This isn't much of an issue for standard combat, but secondary effects such as Ion and Fire damage can be an issue if left unchecked.
Larger, Environmental hazards can also pose a threat, with Suns, ASBs and certain still events being able to deal damage.
The crew are also put at some risk as a result, so only the most hardened crystals sign up for the job.
At least two Crystal crew are required to use Exit Beacon jumps, so be careful not to loose one!                                                                                                                                                                                            
                                                                                              ------                                                                                                                                                                                            
Gameplay/Usage Notes:
Load with the latest Slipstream. Replaces Kestral.
Can be used with other gameplay tweaks - Place this mod last in load order at all times.
Many changes are universal, so avoid using other ships with this mod installed.
Zoltans can add power to the second artillery system (especially useful should it become deactivated)
You only have one customisable system slot, so choose wisely.
Notable v003 changes:
The Artillery systems have been heavily changed.
> The Obsidian Beam's length has been doubled.
> The secondary system now generates a 'Static Shock' that takes much longer to charge but is much more powerful
> The rooms are stacked, meaning that damage/depowering to the sub-artillery is permanent until you find a system repair / zoltan
> This change has also freed up a room for Backup Battery, meaning it can now be purchased.
The Medbay is now a single-person room
> Upgrades cost 10-15 more scrap than usual
> The Medbay has 2 extra upgrade slots - both of these actually speed up healing although the stats displayed incorrectly
Hull damaging events have been tweaked
> Low-damage events now deal no damage, but will breach/start fires in random rooms
> Heavy-damage events will still cost you hull, but in much lower numbers
You need two Crystal Crew members to use the exit beacon
> If you only have one, or none, you will gain new ones, but will be punished
Other:
> Finding a sun recharges your hull in the name of balance. This may be removed based on playtesting.
> Cloaking's upgrade costs have been sharply increased
> Finding Shields in stores gives you +10 scrap to make them less annoying
> Some minor UI tweaks to help inform players of the ship's limitations
> Fire suppression has been reduced to a x0.25 boost. Still useful, but not over-powered                                                                                                                                                                                            
                                                                                              ------                                                                                                                                                                                            
SO, I broke, OK?
I MADE A NEW SHIP.
It's my usual concept-driven fare, so I don't know if it'll even survive through to see the flaghip, but
that's not the point.
The point is that, hopefully, some of you will enjoy giving it a go.
With thanks to Sul for the initial inspiration (the reminder that Titanium casing can be set to 100%)
Let me know if you take it for a spin!
-Jon