Posts: 2
Joined: Mon Oct 19, 2020 2:11 am
The upgrade's aren't working, I don't know if this is still supported, but when I blow up the upgrade box thing I don't actually get the laser upgrade
I just tested the mod myself and it works normally as intended. Make sure you're installing the mods the right way, there's an image that shows you the order of installation.
Posts: 2
Joined: Mon Oct 19, 2020 2:11 am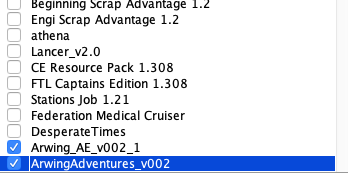 This is how I have it
The events are also dependent on the systems levels. Worst case scenario just use the profile editor and add the weapon yourself to the cargo.
---
Who is online
Users browsing this forum: No registered users and 31 guests