I've been playing a lot of League of Legends as Sona the Medic/Bard/Poor Area of Effect Damager and well, I thought "Hey not make an FTL ship out of her awesome musical instrument?"
So, introducing the Etwahl: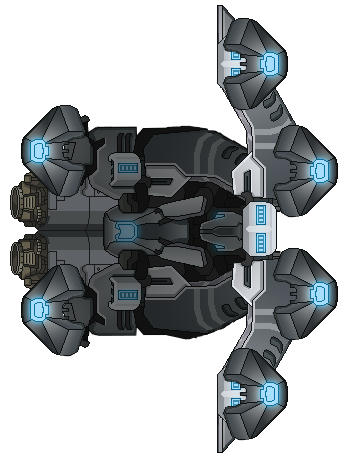 (Replaces Slug A)
http://www.mediafire.com/download/2769o ... Etwahl.ftl
The Etwahl uses blasts of sound to damage the enemy shields and hull. Once the shields are down and damaged, the ship can be finished off with Sona's powerful ultimate ability - the Crescendo Beam. The Crescendo is like the Halberd Beam except it does double damage to the enemy's hull and anyone caught in the effects are guaranteed to be stunned for at least 5 seconds.
If you're playing a mod that allows artillery, there may be an even greater way to resolve the dissonance.
Story
As always there's a story as to why the League of Legends is out in space and fighting against the Rebellion.
The Rebellion came across the world of Runeterra and in their usual fashion, demanded the inhabitants to surrender or be destroyed. Naturally they said "No" and the Rebels dropped nukes on the whole of Valoran. The Institute of War was no more and the whole League of Legends was destroyed as if it never existed. Of course all the arenas and champions remained so there was no getting rid of that damned Teemo.
Then Mordekaiser realised that there were countless other worlds out there that hadn't heard of the band Pentakill. Or metal for that matter!
Determined to solve this problem, his keyboardist Sona turned her etwahl into a spaceship so they could make sure metal stays number one throughout the galaxy!
Also, the Rebels are starting an alternative rock band in direct competition of Pentakill. Naturally they can't let that happen. I mean their bassist is a girl, their drummer has short hair and their lead singer wears glasses!
Strategy
It's your typical "Fire lasers, then beam" strategy you know and love from every other ship with that same gimmick. Although if you get the Artillery, this strategy may become even more potent - keep the shields down long enough and the Dissonance Resolver will finish them off if you don't do it already with the Crescendo.
Don't use the Resolver if the enemy ship still has shields. Even though it does massive damage, it has negative shield piercing. Time it well for victory, summoners.
Videos:
https://www.youtube.com/watch?v=rW2_PdH0C7o
(Done in Captain's Edition)
Updates:
I don't make a V.1 or V.2 designation, so every new update is the same file, you just have to re-download it.
V.4.1
Changed the charge time of the Crescendo to 17 seconds
Removed Mind Control
Because of this, Sensors are no longer needed to be Level 2. So they've been reduced to 1.
Thanks Biohazard063 for going through the ship and providing some suggestions on how to make it a little less OP.
https://www.youtube.com/watch?v=WgKVu0ME1ZQ
(Part 3 of his Etwhal run)
V.4
Fixed some weapons mounts.
Added Artillery weapon mount.
Actually added the Dissonance Resolver to the ship itself.
Made a custom sound for the Resolver.
V.3
Added gibs (they seemed to have disappeared in V.2)
Replaced non-existent Artillery with Dissonance Resolver
V.2
Replaced Hull Beam with Crescendo
Changed the rarity of the Hymns so they couldn't be found in stores
Altered Hymns to be faster and sound a little bit differently
V.1
Initial Etwhal. Came with Hymns of Valor and a Hull Beam