Whether it was a deliberate or just blind luck, it turned out that theoretically a Zoltan could divert more power to a ship's systems if the rooms were clustered together. The Zoltan Defendant Cruiser utilised this advantage with containing both medical facilities and the shield room into one area.
Zoltan Envoy Trikko decided to take this a little further. With the help of the Order of the Great Eye and the Zoltans of Bren, they created the Magistrate.
How did they get the Slug Cruiser parts? Envoy Trikko simply opened up a spacial rift, and shouted "Choose your doom" for good measure.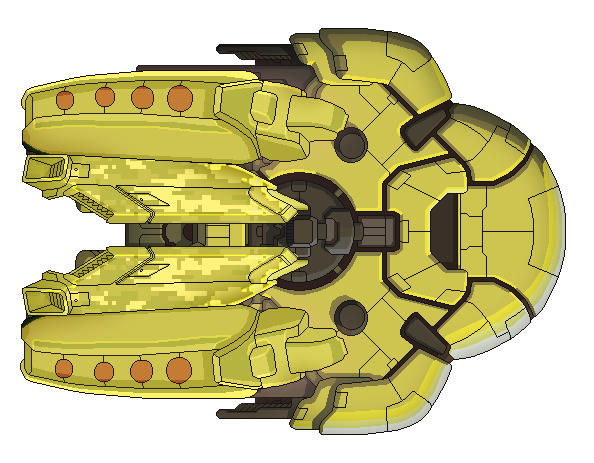 https://www.mediafire.com/?1grattg2sgguzaf
(Replaces Zoltan B)
http://www.mediafire.com/download/d8v3o3g9ef98h65/Magistrate+-+No+Subsystem+Changes.ftl
(If you have mods already that modify system blueprints)
Few things to note:
1) The ship is automated. Sensors and Doors will automatically be stationed and unbreached subsystems will repair themselves
2) Because many rooms are stacked on each other, only one can be operated a time. This also means only one system can be repaired. You'll have to wait for the ship to autoheal the rest. This can be dangerous as more damage will occur and if you're hit in the shields. Upgrade life support and the medbay ASAP if you don't want everyone to die from a missile strike.
3) Defensive assets are at the back, offensive assets are at the front.
4) The UI is a little bugged as it has all of the systems and subsystems available and 4 weapons and 4 drones. Hotkeys may be needed.
5)This ship comes with 5 Zoltans this time.
6) The Artillery is a special weapon. It shoots a short-range laser that causes 1-2 hull breaches and sets the room on fire. Pierces up to 7 layers of shield and only causes 1 damage. So it's rather situational.
7) There are two versions up there. The first modifies the shields, oxygen and weapons and drones so they have extra levels. Shields can put put to Level 6(!) for that missile immunity. If you don't like the idea of that, the second version just has the necessary equipment to run things.
Thanks:
kartoflane for the Universal Starting Beacon
BrenTenkage for trying out the Defendant and requesting a ship with more stacked systems. Hopefully this is something you're looking for (be sure to read the event text for the Zoltan Requisition at the start of the game.)
Also, check out his video of him playing with the Magistrate:
https://www.youtube.com/watch?v=GEB6IjJ ... e=youtu.be
Everyone else for downloading and trying out this strange, gimmicky ship.
It's not quite a win-button cruiser but it does have a greater starting advantage over other ships.
Stay tuned for a potentially dangerous mod - Extreme Ships Pack (all systems in one room? You betcha that'll be frustrating!)