Hello people of the community, I'd like to present my new mod the Federation Ship Lunatrix.
This ship is the much younger brother of the osprey, instead of having an artillery beam this ship was designed to jump into the fray and chaos of battle and emerge from a field of debris in one piece.
The ship has a strong hull strength of 60 points, thanks largely to the layers of armor plating that have been welded over the top of the original structure.
It's weapons systems consist of 1 Vulcan Laser and 1 Breach Missile which at the beginning can't be used at the same time.
The ships has level 3 engines due to the old micro jump unit that used to be installed, however it is no longer fitted, but the engines still remain in pristine condition.
However this ship in particular was one of the first of it's model and thus does not have the compatibility for a shield unit, in other words, you cant get shields, NEVER, SO DON'T BUY THEM IN SHOPS!
Hull Image: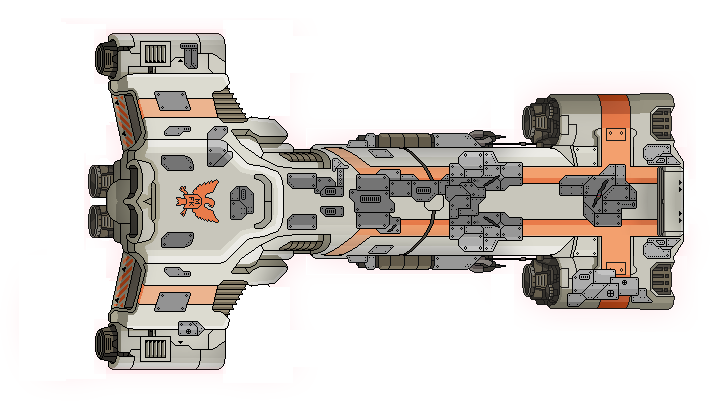 Cloak Image:
Weapons - 5
Engines - 3
Oxygen - 1
Pilot - 1
Sensors - 1
Doors - 1
Reactor Power - 8
Crew - Human x3
Augments:
Titanium System Casing
Rock Armor Plating
DOWNLOAD
https://www.mediafire.com/?b31mbed2a14i2he
This is my first mod and most definitely not finished, any feedback would be appreciated.
To-Do List:
Gibs
Floor Image (TIPS on this would be helpful, Its always out of proportion compared to the layout.)
Type B
Change List:
Beta 1.1:
Removed Shields completely
Buffed hull to 60 points
Fixed cloaking Image
Made some minor adjustments to the hull image
Changed starting weapons systems
Increased starting weapon system power
Added Rock Armor Augment
Beta 1.2:
Replaced Automated Re-loader augment with Titanium System Casing
Buffed reactor Power to 8
Buffed Weapons System Power to 5
Changed starting weapons to x1 Vulcan Laser and x1 Breach Missile
Corrected spelling in ship description