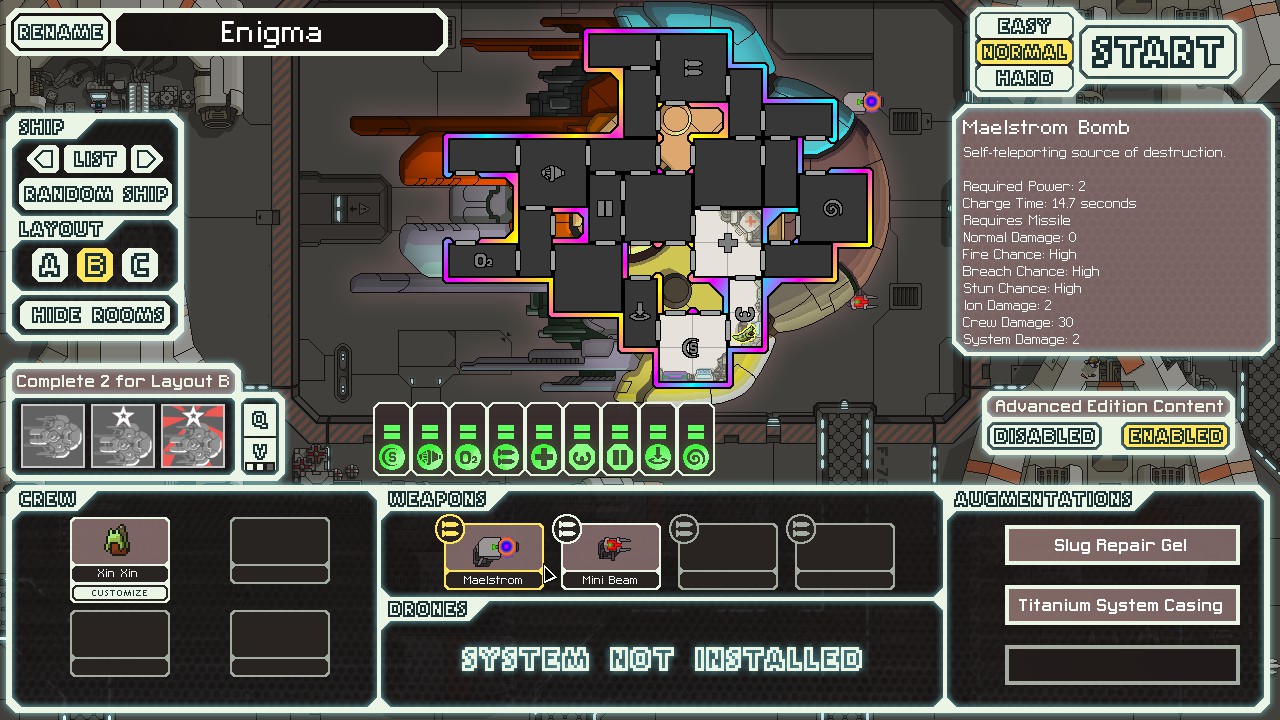 Install with
Slipstream Mod Manager
MediaFire Download Link
AE.1.1 - Replaces Slug-B
Code: Select all
Initial Release of AE.1:
-Where does this go?
-Maelstrom Bomb: Creates chaos! Uses glitchy explosion. :P

Update for AE.1.1:
-Fixed misplaced Backup Battery
-Added Artillery for CE users
-Added Slug drugs for CE users
This is the glitchiest ship I've ever made. Since you are a solitary Slug, all your systems start at 2 and you have Titanium System Casing to help you get started.
*Imgur Image*
Here is a graphic that shows all system locations and door connections. Movement through this ship is messed up, but it is possible to get everywhere, even the two rooms that aren't actually connected to the rest of the ship.



Known Issues:
-An internal drone that shuts off when it isn't in (or overlapping) a room has been known to cause a crash prior to AE; safe to assume that is still the case.
Video:
Biohazard063 - vAE.1 -
Part 1
-
Part 2
-
Part 3
-
Part 4
Credits:
FTL, Slipstream, Notepad, PSP7
MightyKebab
for single slug + teleporter + mind control idea
Biohazard063 for feedback that fixed a bug that was never mentioned during the whole 17 months (slightly over 100 downloads) that this mod was available; seems I'm not the only one who doesn't play