*Change log:
1.2 Fixed console and added in battery room and two small "closets" for hacking and mindcontroll, now ready for advanced edition. *Known graphic bug with low oxygen display in the uneven rooms
1.1 Fixed cloak image and added two custom weapons also made the ship start with sensors to offset the worsened power management.
Here we go my first completed ship! Custom graphics based on game entities including ship with cloak, new floors and gibs all in the flavor of the original game.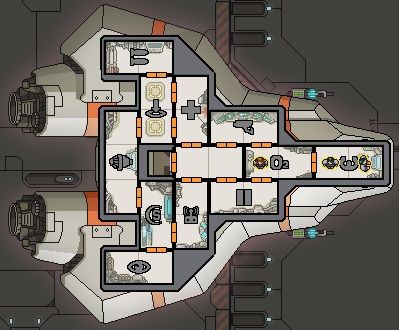 (Activated rooms for the picture)
X - 9 Prototype (replaces the Kestrel)
Half finished prototype of the fast twin engined ambush class. This fast but cramped design was constructed drawing on lessons learned from the
Federation
scout and bomber ships to create the perfect
ambusher
. Unfortunately this prototype needs some work to attain full potential and the small craft wont stand up to as much punishment as a bigger ship.
Gameplay: You start with a strong engine two ion lasers and a pre-igniter, what can possibly go wrong? Allot apparently... You start with the bare minimum of systems active and a crew consisting of only 3 humans. The first sector will be easy on you but then it will quickly become tight since you will need quite a lot of scrap to make the ship able to handle the stiffening opposition. To make it even worse your ship only have half the number of hit points so when things go bad they go bad quickly, at least you have a quick charging FTL drive so you can get out of dodge reasonably fast.
Download link:
https://www.dropbox.com/s/vq8qqfxdq9lgt8b/

Federation

%20Ambusher%201.2.ftl?dl=0
PS: I would love to have some feedback on the ship. I haven't found any bugs but if you do please tell me. Other than that I would just like to hear how you think it plays and if it feels balanced power wise with the vanilla ships.