--------------------------------------------------------------------------------------------------------------------------------------
It's been around a year since my initial release of The Tardis, which was sadly rendered unplayable with the release of AE.
This version has been built almost from scratch, incorporating lots of the features introduced in the update.
There is also far more content than my original attempt, so I have created a new thread rather than revamped the old one.
The mod exploits a few unofficial quirks of the game, but as far as I'm aware it's stable. If you do encounter any bugs, let me know.
Download links follow, with a full description of the mod below.

Available on ModDB:

Latest version:
V011
-
(Updated 10/Sep/2015)
http://www.puppetsquid.com/FTL/Tardis/TARDIS_AE_v014.ftl
V013 - (Updated 20/Sep/2014)
-(personal website if ModDB doesn't work; right click to download) -
-Older versions-
http://www.puppetsquid.com/FTL/Tardis/TARDIS_AE_v013.ftl
V012 - (Updated 16/Sep/2014)
http://www.puppetsquid.com/FTL/Tardis/TARDIS_AE_v010.ftl
V010 - (Updated 4/Sep/2014)

Code: Select all
Version History

V013 - Regenerated Regenerations
Updated Startbeacon events to work with CE more effectively (many thanks to RAD-82)
Made regeneration and the Doctorless Path options only available if there is no Timelord on the Tardis (again, thankyou Rad!)
Minor tweaks to some weapons and drones
Added a companion to the mk42 (type B ship) to make runs with it slightly easier

V012 - Civvies taken down
(Civilian zones removed due to some major issues I can't figure out)

V011 - Minor Patches
Edited Laser Screwdriver description to better fit FTL lore
Changed Cyber Laser to fit with Chrono Vortex's Weapons Pack
Altered Toclafane Generation choice text for flavour
Changed Voluntary Regeneration event to fix overflow when The tardis has a full crew
Fixed character name spelling errors in first Boss event

v010 - First official release for AE
--------------------------------------------------------------------------------------------------------------------------------------
Contains:
New Crew sprites for Crystals
New Start and End game events
3 Custom ships (Tardis mk40, mk42 and mk4X)
New weapons (Including artillery for both ships when playing CE)
New Sounds (lots of new sounds!)
Probably a few bugs!
Please load with Slipstream.
Load after gameplay/visual mods (CE, C'D, etc) but before the Low Oxygen patch if you're using it.
Challenges:
Post and let me know if you manage any of the following-
Survived the first event with no hull or crew damage
Defeated the Flagship with The Tardis (mk40 or mk42, plus one point for each different ending you get)
Defeated the Flagship without a Med/Clonebay
Used all versions of The Sonic Screwdriver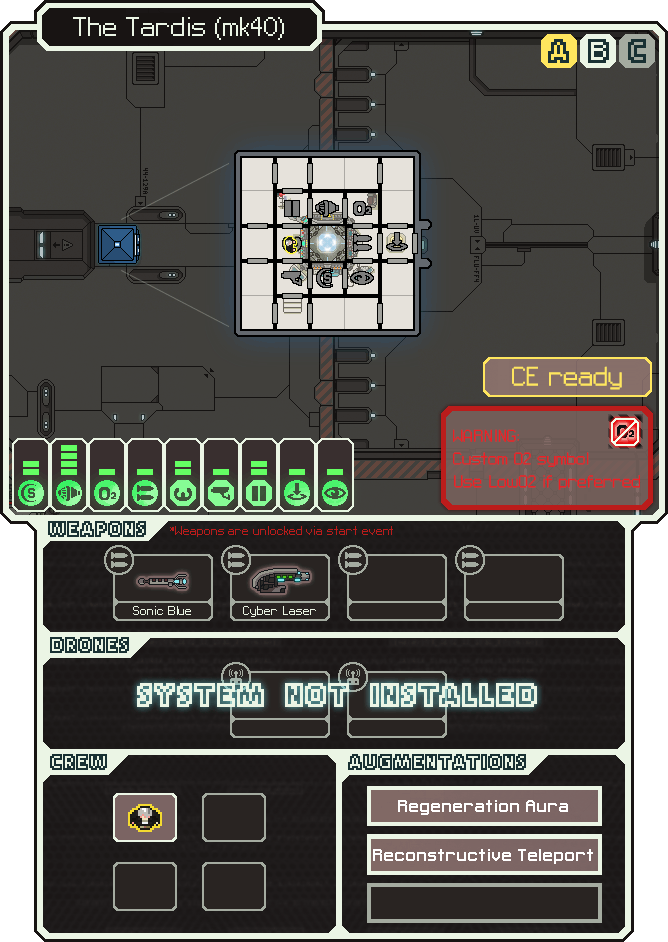 The Tardis comes in two variations -
- The mk40, which is my original take on the ship and closer to the one in the show.
- The mk42, which is built with standard room sizes to better fit the FTL universe.
The initial loadout is designed to promote tactical gameplay;
The Sonic Screwdriver and Cyber Laser can be used in different ways for varying effects
Your only means of healing crew is through teleportation (lots of running around on enemy ships!)
Limited crew, Lockdown, Remote-Repairing and Cloaking make the early run a very defensive one
I've seen a lot of people try to use a boarding strategy with this ship. That's not the way I planned it working, and isn't very effective in the early game.
--------------------------------------------------------------------------------------------------------------------------------------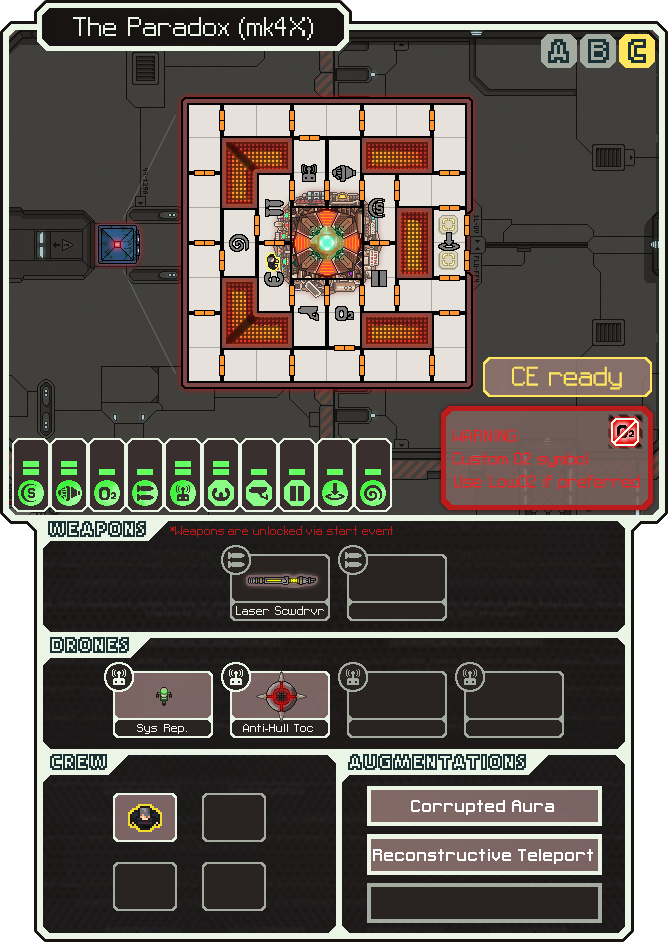 The Paradox - the mk4X - is based on various incarnations of The Master, using The Paradox Machine as the inspiration for the ship.
It is designed as a more challenging version of The Tardis, and shouldn't be attempted before using either the mk40 or mk42.
It follows most of the same rules, but with some distinct twists;
Your initial loadout is heavily limited in terms of defense and stopping power - you must be aggressive to survive the early game
Teleportation is your only means of healing, but also your primary form of attack; crew control is even more vital
The backup for your single crewmember is all AI driven - Drones and Mindcontrol - making them a lot more chaotic
More starting systems, and only two weapon slots, mean there is little room for customization over the course of the game

There is a fair amount of additional content in this mod, here's a glance at some of the key elements;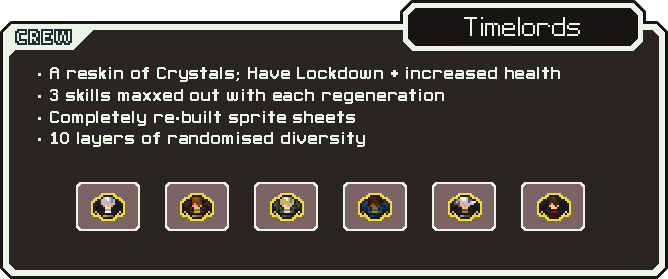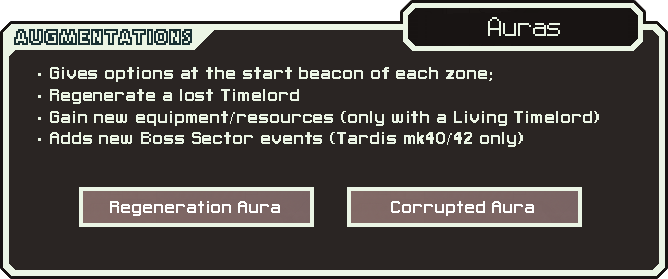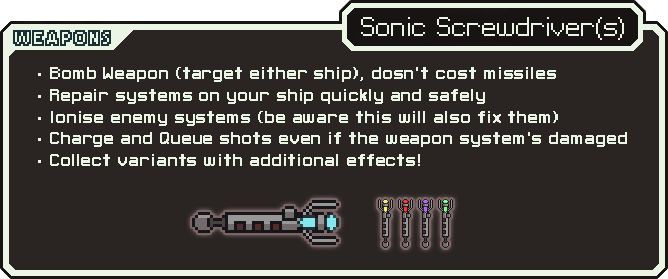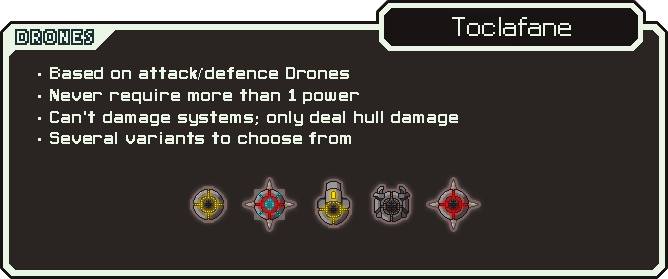 Low O2 (the original mod that my custom graphics are based on. Please load this one up if you prefer the style of it)
http://www.ftlgame.com/forum/viewtopic.php?t=14243
Weapon Packs
Chrono Vortex provided some weapon sprites for the mod, and has also created a few thematically linked weapons (think Dalek Lasers, Sonic Blasters...)
"The Booster Pack" adds these new weapons to the stores, giving more variaty to the main mod
"The Weapons Pack" unlocks
all
the Doctor and Master's weapons and drones for use without the main mod (Want to find a Sonic Red and Dalek Beam while flying The Gila Monster? This is for you)

"The Tardis for FTL playlist"
Includes:
Biohazard063's Tardis Run;
Part 1
HMV's
Tardis (Hard Mode) LP
Also:
Stylesrj's
Beta Run
(highlights a few bugs in an older version of the mod)
--------------------------------------------------------------------------------------------------------------------------------------
Let me know if you have any let's plays you'd like featured on this page!

Cyber-Laser and Laser Screwdriver weapon sprites by Chrono Vortex (as well as inspiration for The Master's ship)
CE-Start beacon compatibility by RAD-82 (as well as helping tidy up timelord-less choicess)
Many thanks to Biohazard063 and Stylesrj and Chrono Vortex for participating in Beta Tests, offering ideas, and for being supportive throughout.
Also kartoFlane, Vhati, TaxiService, bas, Grognak, SleeperService, and the other giants of the FTL modding community who's shoulders we stand on.
Sound effects have been sampled from the following pages:
http://www.bbc.co.uk/schools/teachers/d ... unds.shtml
(Originally:
http://www.bbc.co.uk/doctorwho/sounds/index2006.shtml
)
http://www.maddmansrealm.com
Ships built with Superluminal and Superluminal2
No profit is being made from this mod.
If there are any issues, please let me know and I will do my best to rectify them.
--------------------------------------------------------------------------------------------------------------------------------------