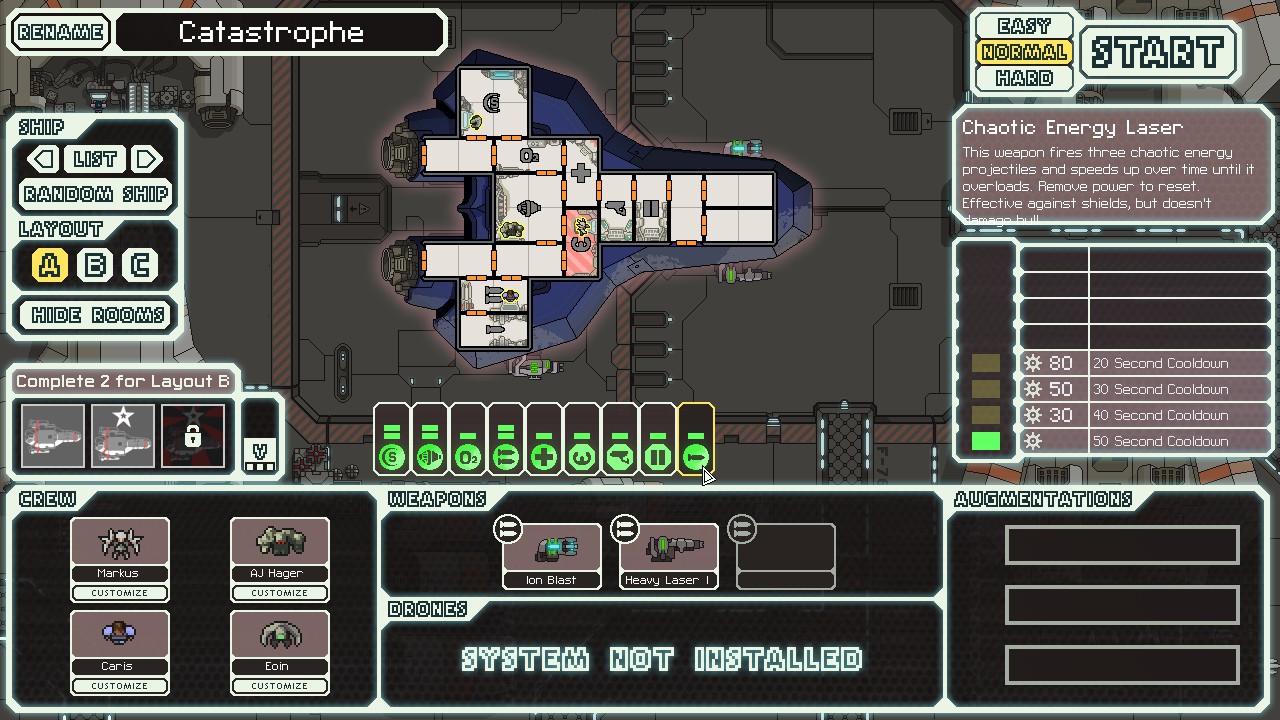 Install with
Slipstream Mod Manager
MediaFire Download Link
AE.1 - Replaces Kestrel-A
Code: Select all
Initial Release of AE.1:
-Introducing the Chaotic Energy Laser artillery weapon.
-It will overheat and break down when it fires too fast.
I felt like making a chain artillery weapon that would eventually hit a negative charge time, causing it to stop firing until you shut the weapon off to reset it. In order to reach that negative time, I made it so it didn't do any hull damage. In the end, I think I made it OP with ion/system damage, but it does take a while to warm up, so I don't care. It can start fires, breach hulls, and damage crew. Under vanilla conditions, odds of reaching negative charge time is quite low, as the crew of the enemy ship will likely have burned and suffocated before that happens.
Starts with a Lanius, Rock, Human, Engi, Ion Blast, Heavy Laser, and basic systems in addition to the artillery.
System Layout
Video:
BrenTenkage -
Full run, streamed before a live audience
Biohazard063 -
Part 1
-
Part 2
-
Part 3
-
Part 4
Credits:
FTL, Slipstream, Notepad, PSP7
SentryJumper for Hull Art
Arfy for Weapon Art
Biohazard063 for testing, because I don't want to get Java to run Slipstream myself. This is why I don't have my usual hanger image for this ship.
Edit (Oct. 11, 2017): Running Java/Slipstream now, so there is now a hanger image.