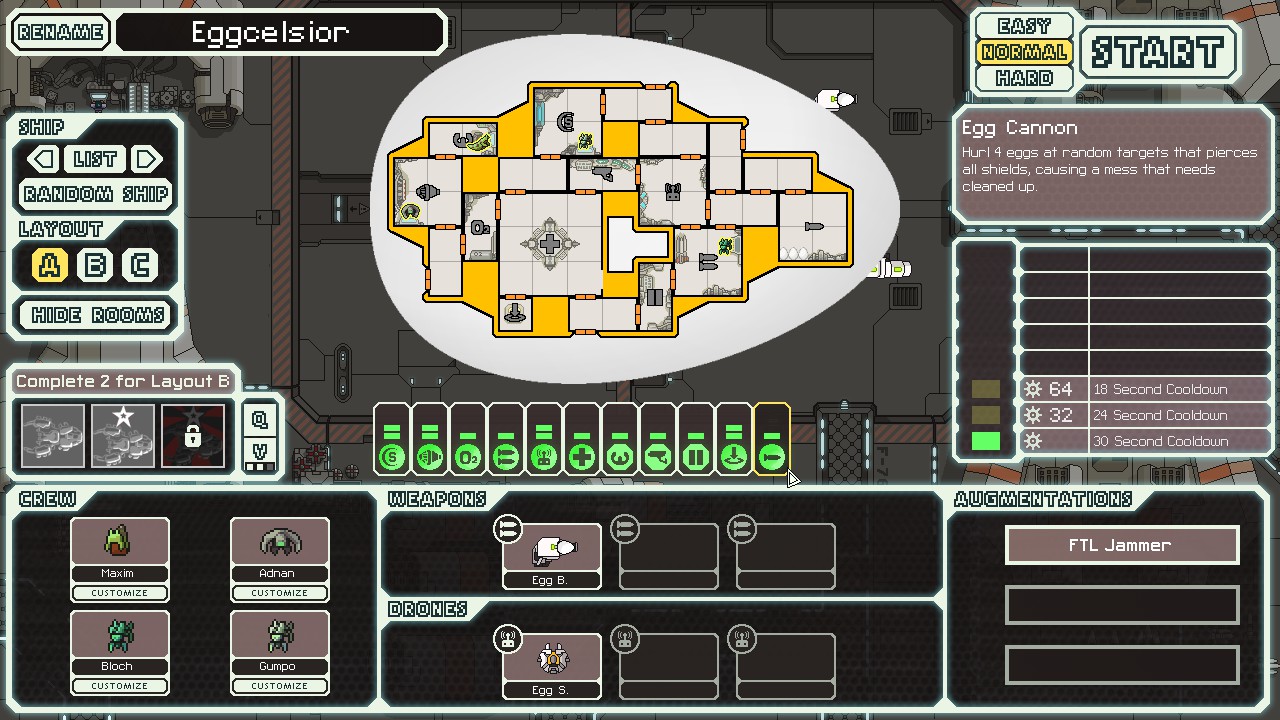 Install with
Slipstream Mod Manager
MediaFire Download Link
AE.1.2 - Replaces Mantis-A
Compatible with
Limited Time Offer
, if you want cloaking, hacking, or mind control.
Code: Select all
Initial release of 1.0:
-Teleporter starts at level 3
-Egg Cannon: Max level 4, starts at level 2, level 1 cooldown of 35s, decreases by 7s per level

Changes for 1.1:
-Teleporter starts at level 2
-Egg Cannon: Max level 3, starts at level 1, level 1 cooldown of 30s, decreases by 6s per level

Update for AE.1:
-Updated for AE compatibility
-Replaces Mantis Cruiser instead of Federation Cruiser
-Replaced Healing Burst with Egg Bomb
-Egg Bomb heals for 75 health and does 1 system damage
-Since this ship starts with the AE maximum of 8 systems, a Type-B was added that removes the starting drone system, allowing for the option of drones, cloaking, hacking, or mind control. The Type-B also starts with the Zoltan Shield Bypass augment since it doesn't have the Egg Slicer drone.
-(May 17, 2015) Silent update for misc.xml.rawappend

Update for AE.1.1:
-Removed Type-B ship
-Made Type-A ship compatible with Limited Time Offer mod
-Fix some rarity issues with custom drone
-Minor increase to starting missiles and drone parts
-Some other kinds of update

Update for AE.1.2:
-Increased system damage on Egg Bomb to 2
-Added 1 second stun to Egg Cannon artillery
-Improved Egg Slicer drone
Welcome to the nightmare that is micro-management. The teleporter on this boarding ship can only hold one person! For the cheap, cheap price of 299.99 scrap*, paid over two installments, this teleporter has no cooldown! Sweet!

*99/100ths of a scrap might not be necessary
This .ftl file modifies the artillery and teleporter systems. It comes with custom low oxygen warnings because of the teleporter and medbay.
Why is the medbay so big? I just wanted a room where people could stand around the middle. No good reason for it... We'll just say that is the yolk. For some unknown reason, AE put a hole in the medbay wall. Completely harmless.

Why I made this ship? The term Eggcelsior popped into my head and it seemed like a good name for an egg ship. How it got into my head is unknown...
Warning:
Captain's Edition users should turn off the artillery if they face the Rebel AI ships with three rooms so it doesn't crash the game.
See next post for details on customizing your ship hull.
Video:
Biohazard063 - vAE.1.2 -
Part 1
-
Part 2
-
Part 3
-
Part 4
Credits:
The usual FTL modding credits for Slipstream and Superluminal
Clipart found on the internet