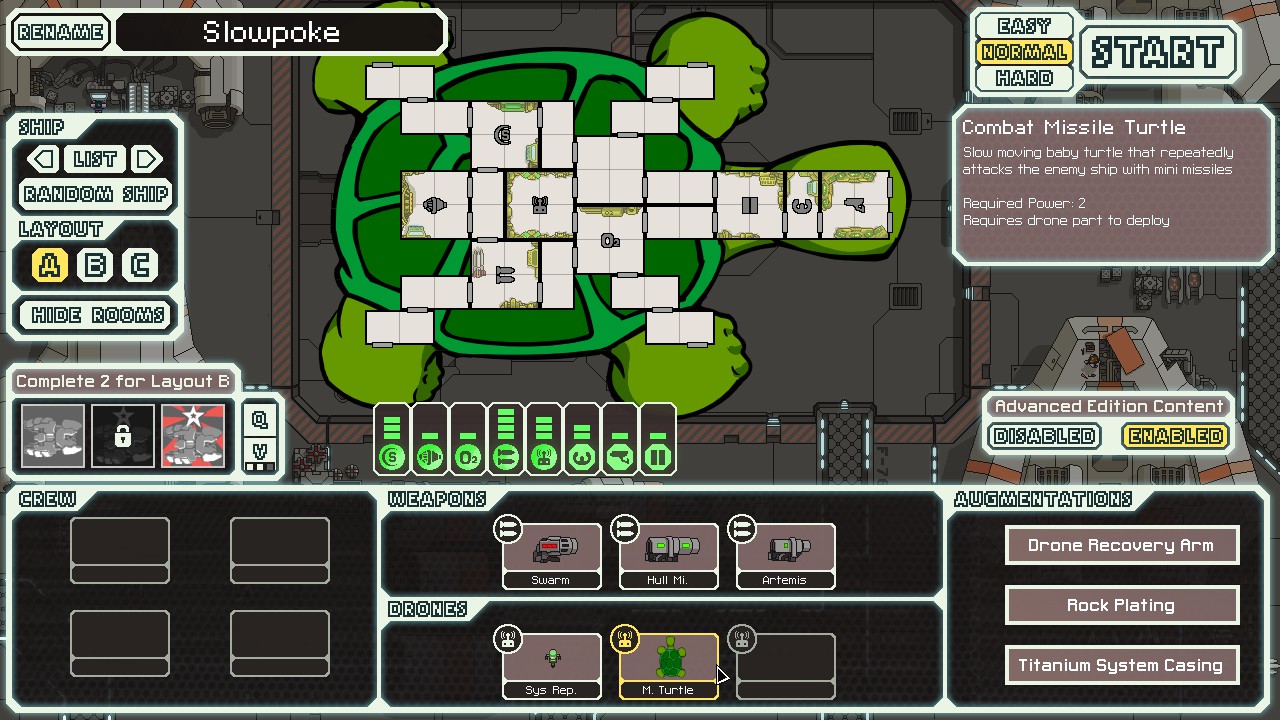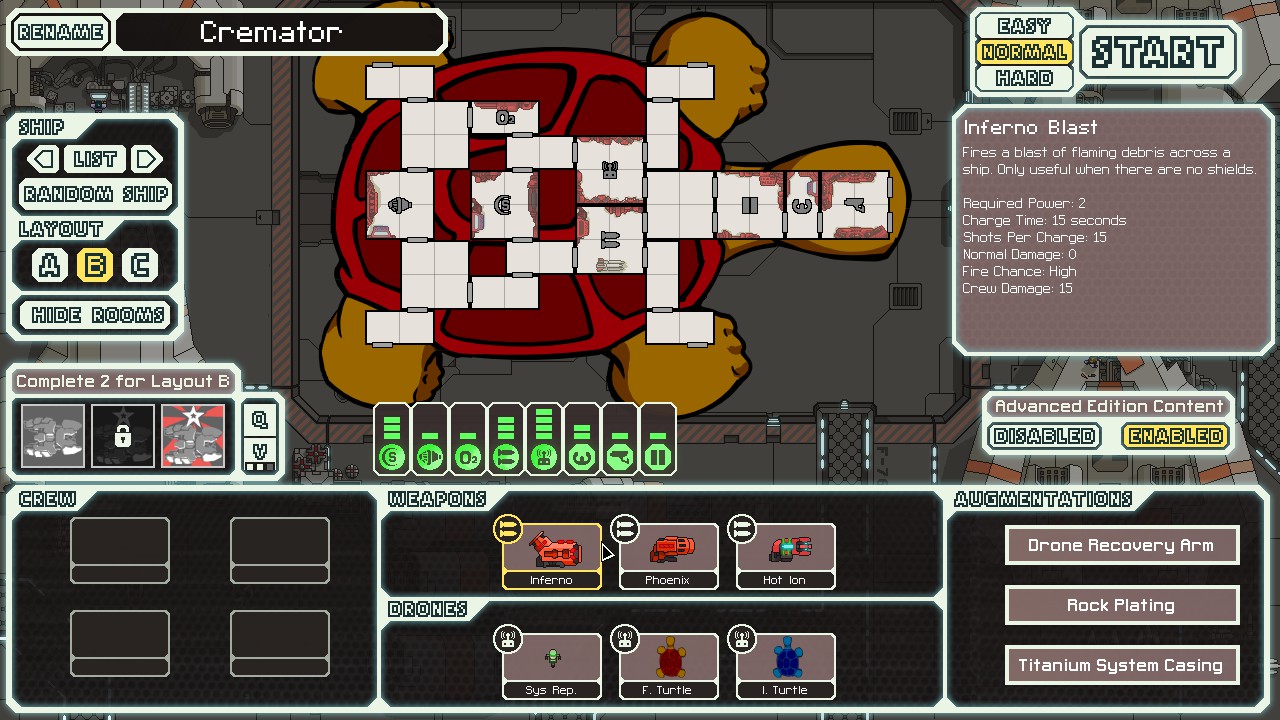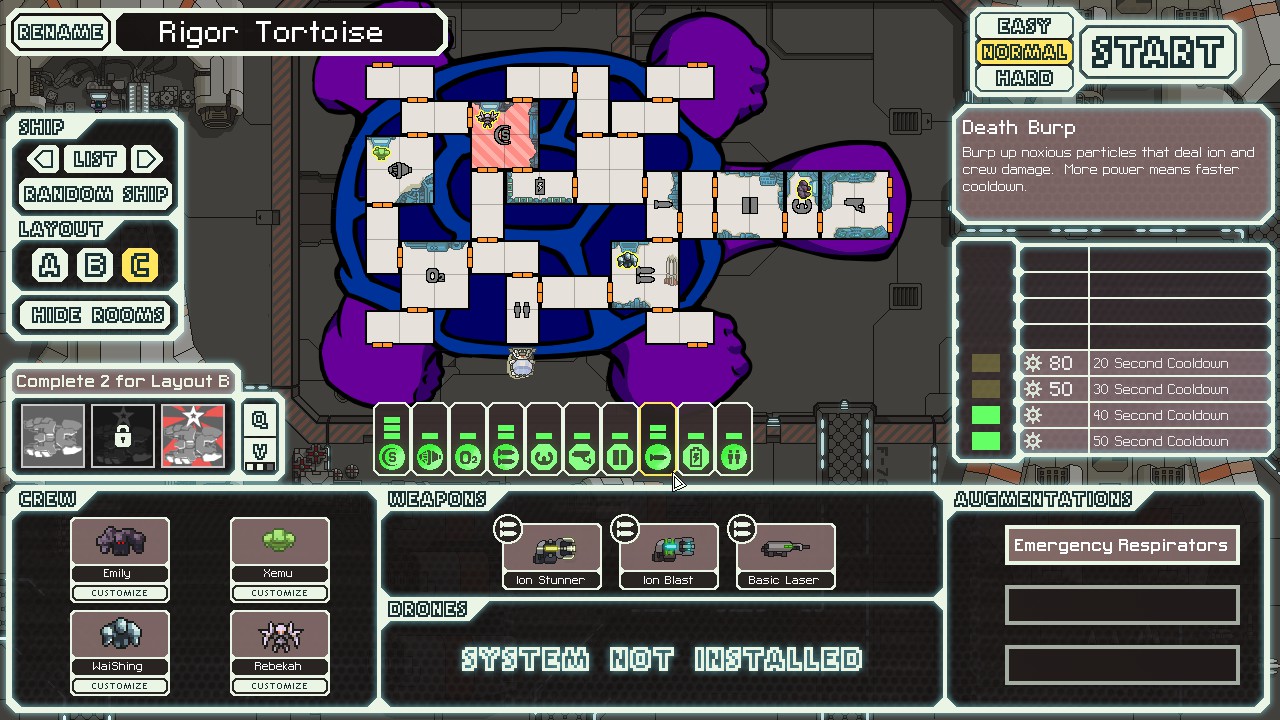 Install with
Slipstream Mod Manager
MediaFire Download Link
AE.2 - Replaces Rock-A, Rock-B, and Rock-C
Code: Select all
Initial release of 1.0:
-Only had Slowpoke
-Engine upgrades cost 10x the normal amount

Changes for 2.0:
-Includes two ships, Slowpoke (Rock-A) and Flametoise (Rock-B)
-Engine upgrades cost 8x the normal amount
-Cloaking upgrades to level 4
-New weapons and drones

Update for AE.1:
-Updated for AE compatibility
-Removed Flare Missile, reworked Phoenix Missile
-Renamed Flametoise to Cremator {Risk of Rain}
-Removed starting medbay from both turtles
-Changed starting weapons
-Slowpoke: Replaced Shield Charge Booster with Drone Recovery Arm
-New exclusive weapon for Cremator, Inferno Blast
-Inferno Blast: 15 projectiles over a huge area, does no hull damage (requires shields down), high fire chance, minor crew damage

New for AE.2:
-New Type-C turtle: Rigor Tortoise
-New turtle is different from the others; it is dead and lacks some of the common things associated with the other turtles
This .ftl file modifies the engines and cloaking systems. Engine upgrades are 8x the normal cost, because you are a slow turtle. Cloaking can reach level 4, because you aren't likely to get 100% evade. Cloaking now costs 50 scrap. The starting augments, Rock Plating and Titanium System Casing, represent the protection of the turtle shell. The shell is your shield, so you have unprotected rooms. The weapon mounts are hidden under the turtle, so you should never see them. Piloting starts at level 2 because the turtle is too slow to realize it was supposed to stop when it got hit on the head.
Rigor Tortoise is different. Deal with it...

Known issues:
-The shield ellipse doesn't fit the shell very well. It is slightly bigger, causing impacts by projectiles and beams to occur before reaching the shell.
-Since cloaking makes the base image transparent rather than disappear, the cloaking effect of 'hiding in your shell' doesn't look as good as it did in Superluminal.

-I don't know what is up with the level 4 cloak button. FTL comes with the graphics for it, but it doesn't use all of them in the game, so I can't fix that. Not really important...
-Clone Bay image is outside of the rooms on the Type-A and Type-C. This is intentional.
Videos:
ZippyDragon
(Mod Overview of vAE.1)
Biohazard063 - Cremator vAE.2 -
Part 1
-
Part 2
-
Part 3
BrenTenkage - Cremator vAE.2 -
Full run
Credits:
You should know the drill, unless you're new. You can refer to my older ships in my signature for more credit details. However, the room and door layout for Flametoise was modified from Slowpoke in Notepad, so Flametoise never saw Superluminal.
Based on BrenTenkage's video, it seems I forgot to credit the turtle graphic. I did not make it myself. I found the green one with a Google search and I don't remember where.