First off, extremely fun innovative game mechanics here! I'm surprised at the LACK of bugs tbh!
So on a finally seeming winner Torus (Engi ship) setup, I reached stage 8 without a sweat and extra scrap. Tri drones, full crew (until just before stage 8 actually, engine mechanic died in a careless fire!), 3 weapons, most upgrades... Awesome yeah?
So I chow down the flag ship on our first encounter. Before I even needed to repair or upgrade, I immediately chased after it with confidence.
I chuckled at their futility... Then...
I WAS MASS DRONE SWARMED.
A total of 8 drones was suddenly attacking my Torus, and took out at least 45% of my hull in one round. Baffled at the horror... I lost hope.
So yeah, I took a screen shot and attached it.
This is a marked one to show it more obviously..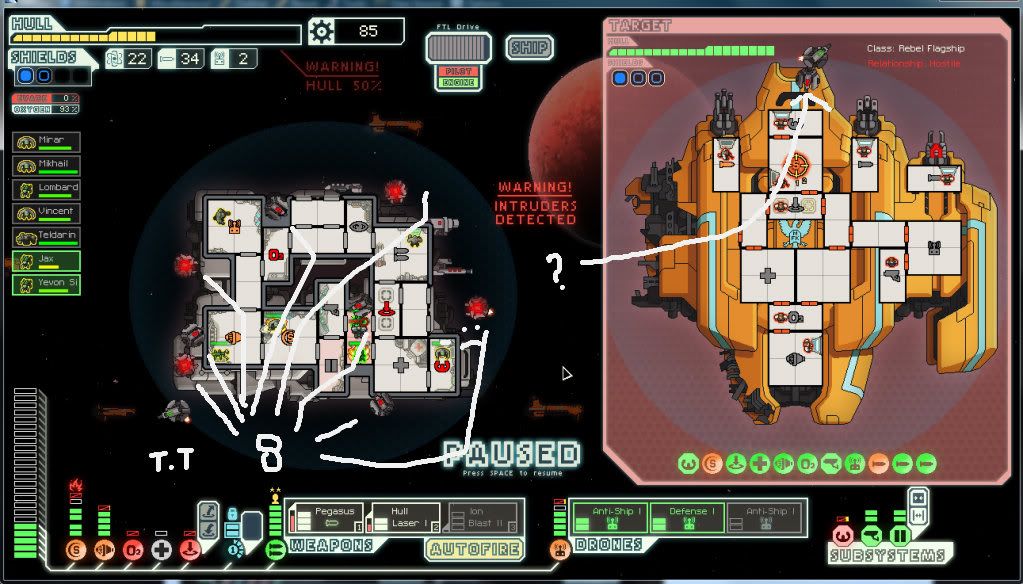 I've fought the flagship many times now, and I have never seen this move, so I HOPE its a bug... Or we're doomed.
------------------
Details on what I was doing that might have caused this:
- They popped up right as I un-paused after giving a series of commands. I do this quite often, which could be part of the problem. I doubt its steam or settings (almost default except alt-tab doesn't stop the game). After 2 volleys, hopelessly I pressed space to pause a couple of times more, and they vanished! Then I tried to repair, but before my guys start repairing, they return again to finish me off.
-----------------
Hopefully this doesn't happen often. I'm happy to play again, but I doubt I can ever handle such a sore losing Flag ship who can't admit defeat like this!