Not enough tiles to put the mechs and start the mission!
Posted: Sat Aug 31, 2019 2:22 pm
Hello,
As I said in the subject, I just found myself in an awkward position: in hard mode with the Rift Walkers on Detritus, there seems to be only two tiles available to put my mechs before starting the mission! (and of course I can't start it).
I'm quite sure there was 3 available tiles at the beginning, (the second one from the top-right) but it just disappeared after I put my second mech... [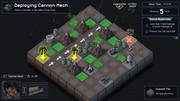 I guess I'll have to abandon this timeline because there is no way to do anything else! (And I tried to turn the game off and on again and this is pretty much the only thing I could think of to resolve the situation...à