So this is my rework of the kestrel, I named it the peregrine, after the peregrine falcon, which is very fast. The image I had in my head was a drug smuggling pirate cruiser, with a big hanger full of cargo.
Update:
Bugs Fixed, this is the final release, DL update.
I have created an alt type B reskin for the design. Its spooky!
http://www.ftlgame.com/forum/viewtopic.php?f=11&t=21214
The Peregrine Cruiser
This stunningly fast ship started its life out as a civilian FTL transport. It was captured by a pirate who was notorious for his drug smuggling prowess. He reaped massive profits off the contraband he was able to run into federation space, and spared no expense in securing his merchandise. Once acquired, this ship was fitted with two huge cruiser class FTL engines and a combat grade weapons system. Its one of the fastest ships around, some say it can make it to Sector 8 in under 12 parsecs.
__________________________________________________________________________________________
This ship is focused on evasiveness and FTL jump readiness, a playing style I don't typically adopt, should be interesting to see how it plays out. It could also be used incredibly effectively as a boarding ship because of the 4 spot cargo teleporter and the huge hanger in the rear of the ship, which gives you wiggle room for your boarding parties.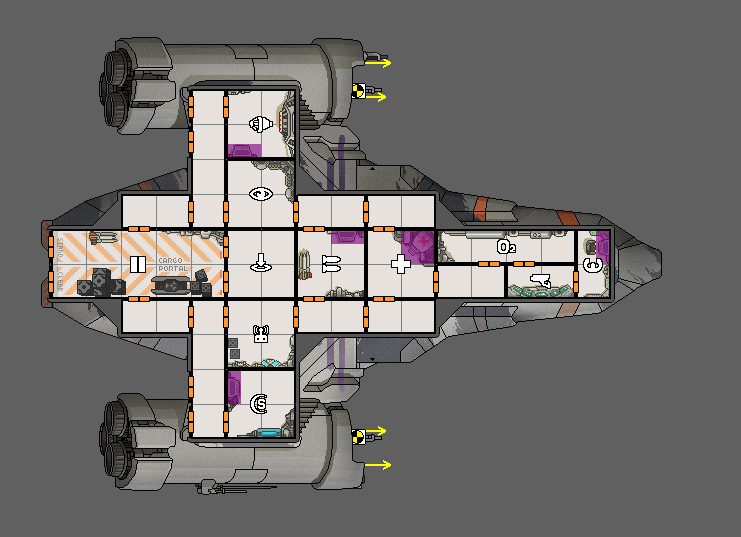 Starting Systems:
Pilot: II
Sensors: I
Doors: II
Weapons: III
Engines: IIII
Shields: II
Life Support: II
Medbay: II
Reactor: 11 (+1)
Starting Crew:
Starting Equipment:
Burst Laser Mk1
Small Bomb
FTL Recharge Booster
Download:

https://www.dropbox.com/s/21l8afzh2wcobcu/Peregrine.ftlMOD EDIT:
Existing download is pre-Advanced Edition. "Unofficially" updated for AE by RAD-82.
See post on Page 4